Au Naturel Farm
Fresh from our farm to your table !
Special News
Come see us at the NEW farmers' market in Fairview Plaza !!
Our Products
Wide array of naturally grown vegetables in season, Grass Finished Beef (naturally lean)in quarters and halves, Vine-ripened tomatoes May-Oct, lettuces and gourmet salad greens October - June, Free Range Eggs all year.
About Us
Sunflowers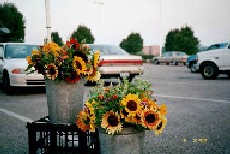 Cut Flowers are an important part of our Farmers Market sales.
Au Naturel Farm has been managed organically since 1989. It was one of the first farms certified by KDA in 1991, is still growing organically, but not USDA certified.
Bell Peppers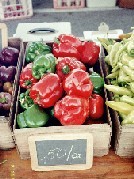 We take pride in providing the best in produce for our customers.
Paul and Alison Wiediger both have over 25 years experience growing organically. We love what we do - grow top quality produce for your table.
Deborah
2000 Murray Grey heifer at 5 months old. Look at the depth of her body - pure beef !
We are located just south of Mammoth Cave. The farm is 84 acres of rolling land, mostly in woods and pasture. We use rotational grazing and Murray Grey cattle, a breed originally from Australia and known for grazing efficiency, to produce our fine, grass finished beef. We have about 2 acres of vegetable growing area, some of it in contoured beds around the hillsides. We produce lettuce, spinach, mesclun, mizuna, kales, mustards and other gourmet salad fixins' in an unheated high tunnel throughout the winter months. In those same tunnels, we grow early tomatoes, typically bringing them to market by Memorial Day - a full 4 weeks ahead of field ripening. You have to taste them to believe them - great tomato taste !
Directions
I 65, Exit 48 (Park City), South on 255. Left on 31W (North) for about 1/4 mile. Right (at the stop light), going south on 255 again for about 3.5 miles. Right on 1339, farm is 1.5 miles on the right - small gray brick house.
Hours of Operation
Daylight, 7 days, please call first
Here is where you can find our products:
Au Naturel Farm
Direct to customers in Bowling Green and Glasgow.
Southern Kentucky Regional Farmers' Market in Fairview Plaza
Au Naturel Farm
3298 Fairview Church Road
Smiths Grove, KY 42171