Mitchell Foods, Inc.
Quality Food Products for the Foodservice Industry
Our Products
Marinated Pork Loin Cutlet, Homestyle Breaded Pork Loin Cutlet, Marinated Beef Rib Eye Steaks, Chili varieties, Beef Barbcue, Pork Barbecue, Chicken Barbecue, Meat Loaf with sauce topping.
About Us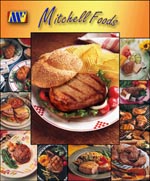 USDA Inspected Food Processing Establishment Since 1990. In retail food business since 1929. Family owned business for four generations.
Hours of Operation
8:00 am - 5:30 pm Mon-Fri
Here is where you can find our products:
Contact your Foodservice Distributor or give Mitchell's a call. We'll be glad to forward you to one of our Distributors.
Mitchell Foods, Inc.
136 Court Square
Barbourville, KY 40906