Triple Cross Farms
The Fruits of our Labor!
Our Products
Apples, Grapes, Strawberries, Peaches and Pears
About Us

Small family owned farm in the rolling hills of beautiful Southeastern Kentucky.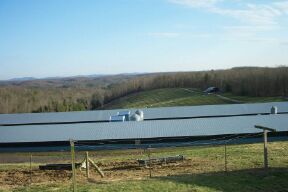 Located 5 miles from scenic Cumberland Falls State Park.
We will box and ship apples for Christmas gifts!
Directions
If traveling HWY 27 turn onto HWY 1045 and proceed 3.5 miles located on right. If traveling from HWY 90, turn onto Hwy 1045, proceed 4.5 miles, located on the left.
Hours of Operation
8:00 AM to 5:00 PM
Here is where you can find our products:
On Location
Triple Cross Farms
3686 Beulah Heights Road
Whitley City, KY 42653
Phone: (606) 376-8780
Phone2: (877) 440-3662
Fax: (606) 376-8780
Email: TripleCrossFarms@yahoo.com