Coyote Creek Horse Farm
We're small now but growing....
Special News
Come out to see our 2004 foals
Our Products
AMERICAN QUARTER HORSES AMERICAN PAINT HORSES
About Us
apple jack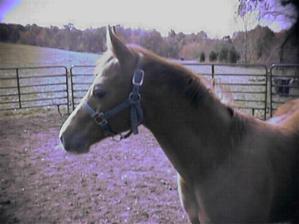 2002 stud colt pictured at 7 mos.
We are a new breeding operation. we have some fine brood mares.
apple jack
2002 stud colt
Come out to visit us. Our phone # is 270-828-4733. Cell 270-245-0363 ask for Rick..or 270-243-0400 ask for Cecilia.
jessie
2002 stud colt pictured at 3 mos.
We will be standing our stallion Applejack in 2005...he's a son of A SKIP FOR SURE. Grandson of PHBA World Champion HEZA CLASSIC FOX. He will be 3 in 05.
Directions
We are 14 miles west of Elizabethtown, KY. 14701 St. John Road. Also HWY 1357
Hours of Operation
If our front gates are open, we're home....come see us!
Coyote Creek Horse Farm
14701 St John Road
Rineyville, KY 40162
Phone: (270) 828-4733
Fax: (270) 828-5156
Email: cecilial54@yahoo.com