T & A SAUCES
'EVERYBODY LOVES A LITTLE T & A'
Special News
NOW AVAILABLE AT KINGSLEY MEATS
Our Products
MEDIUM BBQ SAUCE, HOT BBQ SAUCE, LOGO T-SHIRTS AND DENIMS
About Us
Company Logo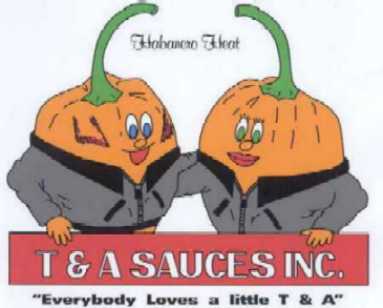 Artist: Timothy Hans
Troy & Annette Perry have created a recipe that combines the taste of sweet bbq and the flavorful heat of habanero.
Our denims and t-shirts feature our company logo and the motto 'everybody loves a little T & A'. That's shorter than Troy & Annette.
The logo is two habaneros wearing biker jackets and holding the Co. sign.
Hours of Operation
10am to 8pm, voice mail otherwise
Here is where you can find our products:
A TASTE OF KY , 11800 Shelbyville Rd. Louisville, KY 40243 PH. 502-244-3355
Bowman Field Liquors, 2800 Taylorsville Rd. Louisville, KY 40205 PH. 502-454-5360
Turnpike Liquors, 234 Keystone Crossrod Dr. Shepherdsville, KY 40165 PH. 502-543-6156
T & A SAUCES,INC.
815 HILLTOP RD.
SHEPHERDSVILLE, KY 40165
Phone: (502) 376-7937
Phone2: (502) 543-3591
Fax: (502) 962-3095
Email: TANDASAUCES@ALLTEL.NET