Chasing Rainbows Farm - Home of Bay Badger Tivio
Breeding for the all-around equine athlete.
Our Products
Quarter horses for sale, stallion standing at stud, silversmith designs
About Us
Bay Badger Tivio
Foundation Quarter Horse Stallion
Chasing Rainbows Farm is proudly owned and operated by Jerry and Debbie Chee. Our 100 acre rolling river bluff farm sits on the edge of the Ohio River located in Brandenburg, Kentucky. It has been in our family for over 80 years.
Bay Badger Tivio
WFQHA World Champion
As quarter horse breeders, we offer all age quarter horses for sale sired by our World Champion foundation quarter horse stallion - Bay Badger Tivio. Our breeding program specializes in working cow horses, roping horses, futurity prospects and the all-around versatile equine athlete. Be sure to visit our sale barn for a listing of available quarter horses for sale.
Winning Ways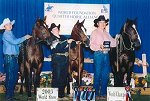 Badger and his offspring
Our standing stallion, Badger, has a superb list of credentials as a sire and an all-around competitor in the show ring. He has won nine World Foundation Quarter Horse Association Championships and numerous other awards in equine competitons. His most recent accomplishments are: 16 Grand Championships World Foundation Quarter Horse Association: 39 points at the world show ,October 2002 147 points at World Show 2004, plus many more. See our website. Badger has also produced three World Champions to date, as well as, multiple futurity winners showing in the foundation quarter horse shows. Offspring accomplishments are also available in the horse show section of our site.
Hours of Operation
24/7
Chasing Rainbows Farm
5465 Battletown Road
Brandenburg, KY 40108