Ladybug Blessings-
'Simply the Finest OF Kentucky Handmade'
Special News
TRY OUR UNIQUE HIGH PROFIT FUNDRAISER!
Our Products
Kentucky Gift for someone..Ladybug Blessings would be honored to earn your business. Our products include Unique Ky Handcrafted, Natural Bath and Body Products, Natural Handmade Soap with Shea Butter, Natural Silk, Goat's Milk Loofah Soap, Heel, Foot, Elbow Scrub, Massage Bar Natural Lip Balm, Kentucky's Finest Shea Butter Cream, Muscle Tension & Tired Feet Relief, Peppermint Foot Cream. We Wholesale! Looking for a fine Kentucky line to add to your shop? We are proud to offer you a distinctive complete line wholesale bath and body with a proven sales record. Your customers will rave!
About Us
The Original Loofah Scrub & Massage Bar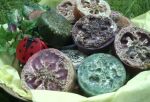 Simply the Best Heel, Foot & Elbow Scrubber - You will find anywhere!!!
Ladybug Blessings began when I first tried a natural handmade soap. I was in my mid 30's and it was the first time I ever got out of the tub and did not itch! I was both amazed and intriqued. From there I spent over 2 years studying and developing a line filled with superior handcrafted bath products.Meeting your need and exceeding your expectation is always our goal.
Ladybug Blessing was founded in 1999 eventually growing to offer retail, internet, wholesale and unique fundraiser opportunities.This has allowed us to thousands of satisfied customers and develop a strong addicted following of faithful patrons. We want to be your premier Kentucky Crafted natural bath and body products choice.
Hours of Operation
Open 24 hrs @
www.ladybugblessings.com
Here is where you can find our products:
Rusty Hinge, Stambaugh, Kentucky
Sisters, Crestwood, Kentucky
Ladybug Blessings
10175 Hodgenville Road
Campbellsville, KY 42718