www.buntonseed.com
With a Growing Reputation!!!
Our Products
Vegetable seeds, Flower Seeds, Grass seeds, Bulbs, Chemicals, Gardening Equipment, Plants, Gardening Tools, etc.
About Us
Bunton Seed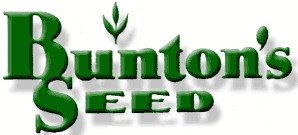 Bunton Seed Logo
We are a family owned business that strives to offer the best seed around.
We have a growing reputation since 1924
Directions
65 N. to Brook Street. Left on Market, Left on Wenzel, located on the corner of Jefferson and Wenzel on the right.
Hours of Operation
7:30 - 6:00 Monday - Friday, Saturday and Sunday, we close at 4:00.
Here is where you can find our products:
Bunton Seed Company
hardware stores
www.buntonseed.com
Bunton Seed Company
939 East Jefferson Street
Louisville, KY 40206
Phone: (502) 583-9040
Fax: (502) 584-0139
Email: sales@buntonseed.com
Website:
www.buntonseed.com