Serano Alpacas & Yarns
SAY Serano
Our Products
alpaca yarn, alpaca textiles, natural fiber wool yarns, hand spun harns, spinning supplies, handcrafted gifts, soaps, lotions, pottery, knitted and crocheted accessories, knit and crochet notions, decorative collectibles
About Us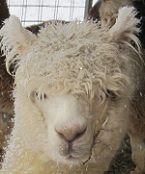 We are a working alpaca farm with a retail farm store proudly filled with handcrafted items, USA Made, and Kentucky Proud. We even have a few antiques and collectibles!
Farm tours to learn about alpacas, their fiber and how it is produced into finished goods are welcome. Tours by appointment only.
Call 208-699-8570.
Directions
Going South on Hwy 55, Right on Booker Road 1 1/4 mi. Going North, turn left on Booker. Farm will be on your left.
Hours of Operation
Thurs - Sat 1pm to 6 pm and by appointment for your convenience.
Serano Alpacas & Yarns
1805 Booker Road
Springfield, KY 40069
Phone: (208) 699-8570
Phone2: ( ) -
Fax: ( ) -
Email: seranoalpacas@msn.com
Website:
www.seranoalpacas.com