EKU Hosts Ribbon Cutting for Robotic Milking System
Kentucky Dairy Producers to Benefit from Training and Education Sessions
Governor's Office of Agricultural Policy
RICHMOND, Ky. (Oct. 22, 2018) — Eastern Kentucky University staff, Governor's Office of Agricultural Policy staff, Kentucky Agriculture Commissioner Ryan Quarles, state and local officials and members of the community attended a ribbon cutting ceremony and tour of the Eastern Kentucky University's new, state-of-the-art robotic milking system today.
Eastern Kentucky University (EKU) received $179,373 in Kentucky Agricultural Development Funds to purchase and install an Automated Milking System (AMS) for demonstration, education and research at EKU's Meadowbrook Farm.
"Technology is constantly upgrading agriculture. Who would have ever thought that cows could be milked without the dairyman going to the barn? Cows are milking themselves," Warren Beeler, executive director of the Governor's Office of Agricultural Policy said. "Congratulations to EKU and the Kentucky Agricultural Development Board in this partnership that will show the world the cutting edge technology of today's agriculture."
In partnership with the Kentucky Dairy Development Council, EKU's Meadowbrook Farm hopes to improve economic prospects for dairy farmers by increasing exposure of this technology to Kentucky producers. The robotic milking system will benefit both existing dairy farmers across the state as well as agriculture students studying dairy production.
EKU's Meadowbrook Farm is located at 485 Whitt Road, Richmond, KY. For more information on the facility, please contact Justin McKinney at (859) 622-2061 or at justin.mckinney@eku.edu.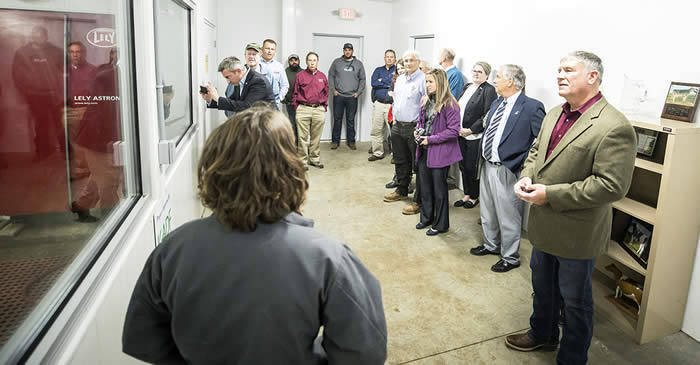 Dignitaries watch the robotic milking system in action. Watch the video that Commissioner Ryan Quarles is shooting in this photo.
(Eastern Kentucky University photo by Amanda Cain)