Commissioner's Comments
Amid all of life's troubles, count your blessings
This has been another challenging year for Kentucky farmers. We've had to endure an historic drought, rising expenses, attacks from animal activists, and the threat of government overreach. Even if you don't farm, you're still trying to make ends meet in a sluggish economy.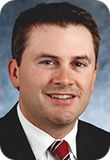 So at this time of year, its good to take a step back and count our blessings. We certainly have a lot to be thankful for.
We live in the greatest nation in the world. For all our national difficulties, the United States is still the envy of all the other nations. We are the beneficiaries of the sacrifices made by scores of people who came before us on the battlefield, on the frontier, marching on the streets for suffrage and civil rights.
We have people we care about and who care about us. These include our spouses, our children, our friends, our workmates, and even our competitors. We watch out for each other, and we are able to achieve far more with them than we could on our own.
I was reminded of all this when I had the pleasure of attending my first Kentucky Proud Points luncheon as your commissioner of agriculture. The young people I met there were smart, respectful, and shared a positive outlook. They were humble as they were honored for their achievements on the livestock show circuit and happy for their fellow competitors when they won. Most, if not all, were accompanied by their parents, who give freely of their time and energy to make it possible for their children to show and care for their livestock.
Many of us had similar experiences when we showed livestock or participated in other activities. We grew up with a deep appreciation for our families, we learned the value of hard work, and we forged friendships that will last a lifetime.
We also came to understand that we are richly blessed. For my part, I was blessed with parents who helped and encouraged me to be the best I could be. I am blessed with a beautiful family. And I consider it a blessing to serve as agriculture commissioner. Its an opportunity to speak out on behalf of Kentucky farmers and give back to a Commonwealth thats been good to me.
Count your blessings/Name them one by one, the old hymn goes. Ill be doing that this holiday season, and I encourage you to do the same and face the hurdles before you with a happy heart.

James Comer, Commissioner of Agriculture
Commonwealth of Kentucky