Kentucky Ag News
Kentucky Proud program awarded grant; more than $2.8 million invested in state's branding program
Governor's Office of Agricultural Policy
FRANKFORT, Ky. - The Kentucky Agricultural Development Board, chaired by Gov. Steve Beshear, approved the Kentucky Department of Agriculture (KDA) for $2,830,000 Agricultural Development Funds to be divided over two years (2013-2014) for the Kentucky Proud program.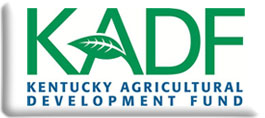 I am pleased to continue our support of the Kentucky Proud Program one of the premiere marketing and branding initiatives in the country, said Gov. Beshear. Kentucky Proud is not only important to agriculture, but it is also valuable to our citizens who seek local products and strive to support the local economy.
Kentucky Proud is Kentuckys official marketing and promotional program that is designed to help agricultural producers sell and market farm products that are grown, raised, processed, packaged, or manufactured in Kentucky. The primary goal of the program is to increase net farm income for Kentucky farm families and agribusinesses.
Its a great day for Kentucky farmers, said Agriculture Commissioner James Comer. Kentucky Proud is such a powerful marketing tool for products grown, raised or manufactured right here at home, and Im so grateful to the ADB for their steadfast support for this program. Together, we will make Kentucky Proud the finest marketing campaign in our states history.
Funds awarded will be used for various aspects of the program, including Point-of-Purchase (POP) grants, Restaurant Rewards, branding and advertising, trade shows, a USDA beef grader, website development, and retail projects.
This project was one of the 12 proposals approved at the Kentucky Agricultural Development Boards Nov. 16 business meeting.
For more information about Kentucky Proud program, contact Kristen Branscum, executive director of the Kentucky Department of Agriculture's marketing office, at (502) 564-4983 or kristen.branscum@ky.gov. To find Kentucky Proud producers and products, visit www.kyproud.com.