Commissioner's Comments
The Beef Expo runs from March 1-3 at the Kentucky Exposition Center
Buyers and exhibitors from all over the United States know that the Kentucky Farm Bureau Beef Expo features some of the best seedstock in the beef cattle business. Their confidence in the Beef Expo shows in the sales figures, which have skyrocketed in recent years.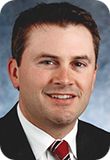 Gross sales at the Beef Expo shot up 46 percent from 2010 to 2012 and last year crossed the $1 million mark, averaging $2,192 per head. I expect another strong showing at the 27th edition of the Beef Expo March 1-3 at the Kentucky Exposition Center in Louisville.
Ten breed shows and sales and the pen heifer show and sale are on this year's schedule. The junior show and the judging contest will give 4-H and FFA exhibitors the chance to sharpen their skills and test their mettle against their peers. The judging contest has grown into one of the top events of its kind in the country, and we expect a great turnout again this year.
The Kentucky Department of Agriculture once again will play an important role in the Beef Expo. Staff from the state veterinarian's office will check the health papers of all the animals that enter the Kentucky Exposition Center. Other KDA employees will help conduct the shows and sales. The Kentucky Department of Agriculture works closely with the Beef Expo board in promoting, advertising, and coordinating the event.
The Kentucky Exposition Center is ideally suited for an event of the scope of the Beef Expo. It's located conveniently close to Louisville International Airport, and it offers 1.2 million square feet of enclosed, climate-controlled exhibition space. The Kentucky Exposition Center also was the scene of the National Farm Machinery Show in February and will host the Kentucky National Dairy Show and Sale in April, so the KEC is the place to be for American farmers early in the year.
As a cattleman today and an exhibitor in my youth, I recognize the value of top-quality livestock like those that you will find at the Kentucky Farm Bureau Beef Expo. As Kentucky's Commissioner of Agriculture, I am committed to putting on a great event that will benefit exhibitors, buyers, consignors, and spectators alike.
For a full schedule of breed shows and sales and other events, go to http://kybeefexpo.com. I hope to see you there!