Commissioner's Comments
Cattle producers face special challenges in spring
Agriculture Commissioner James Comer
Spring provides special management challenges for cattle producers as pastures emerge and calves hit the ground. Here are a few things were thinking about on my farm back home in Monroe County this time of year.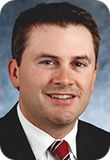 Grass tetany is a metabolic disorder caused by reduced magnesium levels in an animals blood, according to the University of Kentucky College of Agriculture, which conducted some of the pioneering research on the ailment about 40 years ago. UK says high rates of potassium or phosphorus in the field can increase the risk of grass tetany. Symptoms include nervousness, lack of coordination, muscle spasms, staggering, convulsions, coma, and death. Feeding high magnesium supplements will reduce the risk, UK says.
Frothy bloat has appeared in Kentucky cattle earlier and more frequently in recent years. Frothy bloat occurs when cattle consume excessive amounts of forages high in soluble protein such as white clover and other legumes. A foamy or slimy substance forms, trapping gasses in the animals rumen. That blocks the normal escape of gas, which causes the chamber to expand, interfering with the animals breathing. The condition can lead to death by suffocation.
UK recommends several measures to reduce the risk of bloat, including growing a mixture of grasses and legumes, avoiding grazing immature legumes, and refraining from putting cattle on pastures high in legumes that are wet from rain or dew.
Calf scours is the single leading cause of early calf sickness and death. UK stresses that a calf must ingest colostrum soon after birth to strengthen its immune system. Producers also are advised to provide good nutrition to pregnant cows; provide a clean, dry environment for giving birth, and be prepared to replace fluids lost if scours develop.
Consult with your veterinarian or your county Extension agent for any management or disease questions.
Producers moving cattle interstate need to be aware of new federal requirements that took effect in March. The new rules require animals moving interstate to be officially identified and accompanied by an interstate certificate of veterinary inspection or other documentation. Contact the state veterinarians office at (502) 564-3956 to obtain ear tags or to find out more about the new rules.
***
The Kentucky Farm Bureau Beef Expo in March exceeded $1 million in sales for the second straight year and showed gains in gross and average sales. Three lots sold for more than $10,000, and all three were from Kentucky. The number of Kentucky cattle in the Junior Show was up significantly, which I attribute to the success of the Kentucky Proud Livestock Tag Program.
The success of the Beef Expo shows that the Commonwealths beef cattle industry has a well-deserved reputation for quality on a national level.