Kentucky Ag News
Commissioner Comer to launch Kentucky Proud Jobs for Vets and Homegrown by Heroes initiatives
Kentucky Agricultural News staff report
FRANKFORT, Ky. - Agriculture Commissioner James Comer will be joined by national and state agriculture leaders, military leaders, and military veterans/farmers in a news conference next week to launch the Kentucky Proud Jobs for Vets and Homegrown by Heroes programs.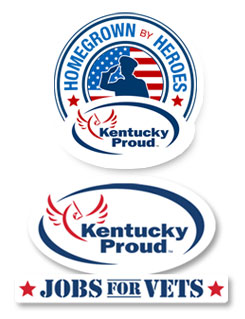 The news conference is scheduled for Tuesday, Jan. 22, at 10 a.m. EST at the Boone Center National Guard Army Aviation Support Facility, 100 Minuteman Parkway, Frankfort.
Kentucky Proud Jobs for Vets will connect military veterans looking for work in agriculture with Kentucky farmers who need labor. Homegrown by Heroes is a component of the Kentucky Proud farm marketing program in which Kentucky farm products produced by military veterans may be labeled with a special logo to bring them to the attention of consumers and retailers.
Commissioner Comer also will talk about his efforts to forge a partnership with a national nonprofit to expand Homegrown by Heroes nationwide.