Commissioner's Comments
Join me in making a voluntary $10 donation when you renew your farm license plate
Agriculture Commissioner James Comer
As you renew your farm license plates, please consider making the voluntary $10 donation that will be divided equally among Kentucky 4-H, Kentucky FFA, and Kentucky Proud.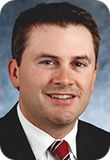 These programs provide vital services to Kentuckys youth and Kentuckys agricultural economy. But they need your help. To drive that message home, I am traveling throughout the Commonwealth in the next few weeks to meet with county clerks, 4-H and FFA members, and local leaders to promote the voluntary donation.
Last year, I got together with Keith Rogers at Kentucky 4-H and Billy Ray Smith at Kentucky FFA, and we decided to split the proceeds of the donations equally among our organizations to remove any uncertainty about where the money was going. Then I spoke to a statewide county clerks meeting and toured county courthouses in an effort to let people know about the donation.
Our efforts met with some success. Each organization received a check for $121,708.64. But there is still plenty of room for the fund to grow. More than two-thirds of Kentuckians who bought or renewed farm plates last year opted out of making a donation. Oddly enough, Fayette and Jefferson counties had the highest rates of participation, and some of the mountain counties of eastern Kentucky also turned in strong performances, while some of the lowest rates of participation were in agriculture-dependent rural counties.
I strongly believe that these programs are worthy of your support. Kentucky FFA has about 15,000 members in nearly 140 chapters. Its mission is to develop members potential for leadership, personal growth, and career success through agricultural education. Kentucky 4-H reaches some 200,000 youths, teaching them lessons in leadership, citizenship, and life skills that will serve them throughout their lives. Kentucky Proud promotes agricultural products raised, grown, or processed in Kentucky by Kentuckians. More than 4,000 farmers, processors, retailers, restaurants, school districts, farmers markets, state parks, and Kentucky Farm Bureau roadside markets are members of Kentucky Proud.
Kentucky FFA and Kentucky 4-H saw their revenues decline after the economic crash of a few years ago. Kentucky Proud is funded by the Kentucky Agricultural Development Fund, but that money is scheduled to run out eventually, and Kentucky Proud needs new revenue streams to continue to help Kentucky farmers and food producers market their products.
These programs are important for our young people and producers individually and for our Commonwealth as a whole. I hope you agree. Please think about adding the $10 voluntary donation when you renew your farm license plate.