Commissioner's Comments
Proposed standards are right for livestock and producers
Agriculture Commissioner James Comer
The proposed Kentucky livestock care standards are right for Kentucky livestock and producers alike. They are clear and specific to each livestock species. I am pleased that the Kentucky Board of Agriculture approved the proposed standards in March, and I look forward to walking them through the remainder of the regulatory process so livestock producers can be certain about what the rules are and what they need to do to abide by them.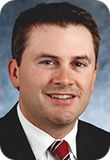 The proposal addresses consumer concerns while affirming traditional, scientifically sound on-farm livestock management practices. The agriculture industry recognizes these practices as the best ways to keep our animals safe and healthy. The Kentucky Livestock Care Standards Commission wrote and recommended the rules in accordance with the 2010 state law that established the commission, taking into consideration input from specific species experts as well as the scientific community.
I am convinced that Kentucky farmers treat their livestock in a humane manner. The health and well-being of their animals is important to their bottom lines. Plus, our farmers want to do right by their livestock and in all aspects of their operations. This proposal, if adopted, will establish the rules of the game and set a level playing field for all producers.
In recent years, consumers have taken a greater interest in where their food comes from, what's in it, and how it's produced. As a farmer myself, I can tell you that we welcome consumers' interest and look forward to working with them as partners as we seek to produce the safest, most abundant, and most affordable food supply in the world, and to do so in an ethical, humane, and scientifically sound manner.
As I write this, my office is working on filing the proposed rules, and a public hearing will be scheduled in the near future. Keep in touch with the Kentucky Cattlemen's Association or my office for the time and location. Please participate in this process as you are able and make your voices heard. Be assured that I will do everything in my power to make sure that these regulations set a standard for humane treatment of Kentucky livestock without putting an onerous burden on Kentucky farmers.