Commissioner's Comments
Proposed standards reflect progress Kentucky farmers have made in animal care
Agriculture Commissioner James Comer
As Kentucky's proposed livestock care standards wind through the approval process, this is a good time to take a look at how these proposed standards came about and what they will (and will not) do.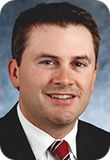 The Kentucky Livestock Care Standards Commission was created as a response to efforts in other states to adopt standards based more on perception than sound science. Those standards threatened to impact the economic competitiveness of the farmers in those states without materially improving the care of their animals. Kentucky farm interests decided to take the lead in developing on-farm standards that will protect our animals without putting undue regulatory burdens on our producers.
The commission, headed by Kentucky State Veterinarian Robert C. Stout, created a multi-species document with input from all segments of the livestock industry as well as other interested parties. The draft was approved by the commission and the Kentucky State Board of Agriculture.
The proposed standards were addressed in a hearing in September, and public comments were taken. Next, legislative committees must consider the standards. If there is no objection from the legislature, the proposed standards could become administrative regulations with the force of law early next year.
These proposed regulations would not tell farmers how to farm but would set minimum standards that any respectable producer should already be following. For example: Shelter may be natural or man-made and include confined, semi-confined, open lots, or pastures. Acceptable management practices include castrating, dehorning, all forms of identification, vaccination, and antibiotic use. Proposed regulations on euthanasia are modeled after American Veterinary Medical Association standards. Adequate feed and water are addressed. The regulations would come into play only in the event of an animal abuse complaint.
These proposed standards reflect and maintain the progress the livestock industry has made over the years in animal comfort and animal welfare.
Kentucky livestock today are more comfortable and better cared for than at any time in history. Kentucky Agricultural Development Fund investments have improved handling facilities, feedstuff quality, genetics, and producer knowledge with funding tied to quality assurance programs. The investment in research at our universities has enabled producers to apply science-based improvements in all sectors of the animal life cycle. With these proposed standards, the Kentucky Livestock Care Standards Commission has taken a giant step forward in defining the line between acceptable treatment and abuse.