Commissioner's Comments
Trends mean opportunities for Kentucky beef cattle producers
Agriculture Commissioner James Comer
Kentucky beef cattle producers are taking advantage of more opportunities today than ever before to add value to their cattle.
Much of that added value occurs on the production end in the form of improved genetics, forages, beef quality, and heavier feeder cattle. Those gains go to the producer's bottom line, and many of those dollars will recirculate locally, generating economic activity in communities that need it the most.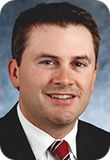 Kentucky is a feeder cattle state, but more and more producers are trying their hands at beef marketing, retaining ownership deeper into the production chain and keeping more value for themselves and their communities. Kentucky has 26 USDA processing plants today, up from 15 a decade ago, as well as numerous custom processing facilities. Many of these plants are booked up as many as two months in advance. These processors are working to satisfy the exploding consumer demand for locally raised beef. Some processors are further adding value by cooking, smoking, and curing meat to produce jerky, sliced roast beef, and other convenience products.
The closer to the consumer, the more valuable the product is for the producer. Calves that are backgrounded and retained at 700-800 pounds are more valuable than calves at weaning weight of 400-500 pounds. Backgrounders spend money on feed, minerals, veterinary services, and other resources, which creates business in the local community.
Investments in research and marketing have made many of these advances possible. The Kentucky Agricultural Development Fund (KADF) has invested millions of dollars in improved genetics, fencing, forages, and cattle handling facilities. One of the KADF's most successful investments has been Kentucky Proud, the Kentucky Department of Agriculture's farm marketing program, which is helping thousands of Kentucky farmers and food businesses market their products. Kentucky Proud assists producers by cost sharing in promotional ventures for foods raised, grown, and/or processed in Kentucky; furnishing promotional items at cost; offering reimbursements for foodservice businesses that buy Kentucky Proud products; and providing a beef carcass grading service. The Kentucky Beef Network, another KADF investment, provides marketing and management services with the goal of improving producer profitability.
In a nutshell, the beef cattle industry recognizes that the consumer is the boss, and consumers want local foods. As a result, selling local beef at retail is today's trend. Efforts to retain value and meet consumer demand are creating opportunities for Kentucky cattle producers. Kentucky Proud and the Kentucky Department of Agriculture can help you identify the opportunities that are right for you.