Kentucky Ag News

C. Oran Little, former dean of the University of Kentucky College of Agriculture, Food and Environment, stands at the former site of UK's hog barn - now Commonwealth Stadium. (Photo by Matt Barton, UK Agricultural Communications Services)
Former UK research farm became site of university's growth
University of Kentucky College of Agriculture, Food and Environment
Waiting on the steps of what today is called Cooper House, at the corner of Nicholasville Road and Cooper Drive, a young Tom Hammond would run down the paved driveway to greet his grandfather, Thomas Poe Cooper, walking home from work in the afternoon. Cooper was dean of the University of Kentucky College of Agriculture from 1918 to 1951.
Hammond, an NBC sportscaster and a life-long Lexingtonian, lived at Cooper House with his mother, Catherine, Cooper's daughter, while Tom's father was away in the Army during the mid- to late 1940s. He said it was a magical place to grow up with UK's research farm as his backyard and playground.
"It was like growing up at Disney World, for a young kid to grow up on that farm. I'm sure I bedeviled all the farm workers," he said with a laugh. "They would give me a ride on a tractor every now and then, but it was a working farm with all of the experiments going on and lots of stuff to do for a kid."
Driving down Nicholasville Road these days, past UK's campus near the Chandler Medical Center, it's hard to believe that the College of Agriculture, Food and Environment's research farm was once located there. The farm has given way to a sprawling medical campus, Commonwealth Stadium, parking lots, dormitories, and numerous buildings. But you don't have to go that far back in time to remember what the old farm looked like.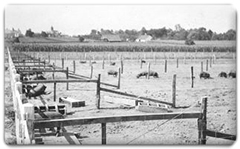 "The hog barn was right about the 50-yard line of the football stadium," remembered former dean C. Oran Little. Little came to UK as an animal nutrition assistant professor in 1960. The college was just beginning a doctoral program in animal science, and Little was hired to help get it started.
"The real challenge was beginning a new doctoral program, particularly at a time when other new developments were in progress across campus. A medical school was being built with a new emphasis on the basic sciences," Little said. "Outstanding biochemistry and physiology faculty were being brought to the College of Medicine, and these folks provided new graduate courses and research complementary to our animal nutrition efforts that made the job very attractive."
Little said Kentucky had a reputation for doing good work in the feeding and management of beef cattle, but new emphasis was needed in more fundamental studies. Bob Hall, president and owner of Hallway Feeds and Farmers Feed Mill in Lexington, was herdsman of UK's beef unit from 1958 to 1964. Hall said the time had come for the research farm to move.
"It was progress. They had just the bare necessities for equipment with the research farm on campus and very little space," Hall said. "The move from campus to Coldstream Farm jump-started the research programs, and people were hired, like Oran Little, who wanted to make big things happen."
Hammond said his grandfather was very protective of the research farm on campus and "wouldn't let anyone fool with it." But he said his grandfather was an intelligent man and wouldn't have stood in the way of progress. Hammond believes The Arboretum exists today because Cooper demanded it.
"As the university expanded and as the role of the College of Agriculture and the Extension Service evolved, I think he would have seen the need to use the farm for other things and establish experiment farms at other places," said Hammond. "He was always ready to put the university first."
Convenience vs. progress
Having the research farm on campus was convenient for professors, whether they were conducting research projects or teaching classes.
"We could go from one classroom building to the farm and have our labs in a matter of minutes," explained Bill Moody, a retired animal sciences professor at UK. "You could walk, you didn't need any transportation; it was unique at that time."
The campus farm was a place with a lot of student contact.
"We had students involved there," said Hall. "We had students from other states wanting to come and work at the beef, sheep, and hog barns because of the success the university had at international and national shows exhibiting livestock."
But it was becoming more apparent that the facilities weren't adequate and a move was needed, especially for Animal Science.
Dairy center burns
It was a Sunday morning in the spring of 1953, and the daily milking routine at the Dairy Center on campus - the E. S. Good Barn, as it is called today - was chugging right along. Bill Poor, a sophomore animal science major from Danville, was working and living at the Dairy Center. He was on the milking crew that morning.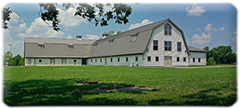 "When we went to milk that morning, we didn't see or hear anything," Poor recalled. "The first time I saw anything was when I looked up where you drop the hay down from the loft and saw a ring of fire above my head."
Poor said it is believed the fire started in the hayloft, the result of a lightning strike during a thunderstorm in the early morning hours. Fortunately, all the workers and cows made it out safely, but the roof and loft of the barn were destroyed.
"It was a great fire and a big loss," Moody said.
Milking went on as usual that evening, unaffected by the damage. That's because the barn itself was constructed of reinforced concrete, and it is probably why it still stands today. The loft is now home to the College's Landscape Architecture program.
"The Good Barn was scheduled to be demolished, but there was a problem. It is poured reinforced concrete: floors, ceiling, walls, everything," said Little. "Demolition was estimated to be too costly, and that is when it started to be developed for use as a conference center."
Today, the Good Barn, named for E.S. Good, a former UK animal scientist and administrator, is considered the centerpiece of the College of Agriculture, Food and Environment.
"I am pleased that the Good Barn stands today," Moody said. "I think it is a legacy to the college and to theuniversity, because a lot of people use it and know it as a conference center. I think it is very much appreciated."
W. L. "Lloyd" Mahan was the research farm manager for many years. His son, Jim Mahan, said a lot of his dad's job as farm manager was about putting out fires, but not the real kind.
"It was a matter of trying to keep everybody happy. The hog people, the cattle people, and the sheep people," Jim said. "I guess he was more of a peacemaker than a farm manager, but they seemed to get along fine."
Mahan's family has a long history with Kentucky agriculture. His grandfather, Charles Mahan, was the first full-time county agriculture agent, hired in Henderson County in 1912.

New Opportunities
The purchase of Coldstream Farm in northern Fayette County in 1957, the gift-purchase of Spindletop Farm in 1959, and the purchase of Maine Chance Farm in the mid-1960s provided UK with a nucleus of farms that was second to none. Strong emotional ties to the research farm on campus remained, however, even to the point that survey stakes for the new hospital disappeared one night after they had been placed in the ground where an unnamed researcher had corn plots. Construction was delayed, and the researcher completed the data collection on the plots.
Little said many people in the college were upset over the new medical school coming in and taking land away. But relocating the campus farm provided opportunities for the development and expansion of the college and the university as a whole.
"Relocating the farm provided other opportunities for the medical school, dormitories, athletics, the college, and the community college," Little said.
Little strongly believes having a research farm is as essential to an agriculture program as a chemistry lab is to a chemistry program, no matter if that farm is just out the back door on campus or at the back side of the county.
"As the ag programs were relocated off the main campus, there were many anxious moments and delays, and inconveniences were experienced, but our faculty and staff adjusted," Little said. "There were opportunities to enhance our land-grant responsibilities with new research initiatives to better serve Kentucky's agricultural interests."
Middle photo: The former UK hog farm. (UK Special Collections Archive)
Bottom photo: The E.S. Good Barn. (Photo by Matt Barton, UK Agricultural Communications Services)
This article was written by Jeff Franklin with the Agriculture Communications Office at the University of Kentucky College of Agriculture, Food and Environment. The article first appeared in the summer 2013 issue of The Ag Magazine and is reprinted with permission.