Commissioner's Comments
Beef producers: Is now the 'right time' to upgrade your operations?
Agriculture Commissioner James Comer
As I write this, beef cattle prices are at an all-time high. The recent Kentucky Farm Bureau Beef Expo reflected the strength of today's market as consignors took home a record $1.14 million in the breed sales and the Pen Heifer Sale, marking the third year in a row that Beef Expo sales have exceeded $1 million.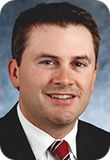 Kentucky farmers are well-positioned to take advantage of today's record prices in no small part because of the investments we've made in our industry that enable them to produce calves that get to market weight faster and are better suited for today's market.
Grants of tobacco settlement money from the Kentucky Agricultural Development Fund have enabled producers to upgrade genetics, forages, and handling equipment. Investments in university research have led to findings that help producers manage and care for their animals more efficiently, and investments in Extension have delivered those findings to the producers on the ground. Kentucky Proud and other initiatives have helped producers explore marketing alternatives that make it possible for them to retain ownership deeper into the food production chain.
With more cash in your pocket, now is the time to reinvest in your operation to make it run more efficiently and get more production out of your cattle. Maybe you need to replace an old bull with a young one. Maybe you've been waiting for the right time to try synchronizing your cows through artificial insemination to capture the added value of selling calves in groups of like kind. Maybe you could capture even more value by extending ownership and selling calves at 700 pounds instead of 500 pounds. Maybe you'd like to add watering stations and internal fences to rotate your pastures and improve the quantity and quality of your grasses. Maybe there's more you could do to control the weeds in your pastures and hay fields.
What's that project you want or need to do that's just been waiting for "the right time?" Maybe now is "the right time" to streamline your operation to produce the kind of calves that industry and consumers are demanding. Today's strong cattle prices — in tandem with lower feed expenses and land costs that are leveling off — provide an opportunity to fine-tune your business and maximize your profits for years to come.