Commissioner's Comments
During National Beef Month, remember all the people who put the beef on your plate
Agriculture Commissioner James Comer
May is National Beef Month, and I can think of two great ways to celebrate: Start grilling those delicious steaks and burgers (if you haven't already), and tell everyone you know about all the benefits of beef.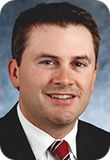 The Kentucky Beef Council tells us that beef is the leading source of protein for American consumers. Protein is vital for building muscle, maintaining and repairing tissue, and giving you the energy you need for physical activity. Beef is an important dietary source of iron, zinc, B-vitamins, heart-healthy fats, and other vitamins and minerals that you and your family need to stay healthy, strong, and active for a lifetime.
You can find beef facts, beef recipes, grilling tips, videos, and much more useful beef information on the KBC's website at www.kybeef.com.
Beef also has a significant impact on Kentucky's economy. Kentucky is the leading beef cattle state east of the Mississippi River with just over 1 million beef cows and nearly 2.1 million head of cattle in all as of Jan. 1, according to the Kentucky office of the National Agricultural Statistics Service. Kentucky producers took in $656.7 million in cash receipts from the sales of cattle and calves in 2012, a 36 percent increase in three years. Beef cattle prices are at all-time highs, and the Kentucky Farm Bureau Beef Expo has chalked up sales of more than $1 million three years in a row.
The Kentucky Department of Agriculture acts to promote and protect Kentucky's beef cattle industry. The KDA looks for new markets for Kentucky cattle and Kentucky beef through the Kentucky Proud marketing program. The state veterinarian's office works with its federal counterparts, the state livestock diagnostic laboratories, and private veterinary practitioners to safeguard Kentucky cattle from foreign animal diseases. Department employees conduct livestock shows throughout the Commonwealth, including the Kentucky Junior Livestock Expos and the Kentucky State Fair.
So as those steaks and burgers are sizzling on your grill, remember to thank a farmer. And remember all the other people who made it possible — veterinarians, processors, bankers, retailers, and your Kentucky Department of Agriculture.