Kentucky Ag News
McClanahan, Courtneys honored at American Farm Bureau Convention
Kentucky Farm Bureau
SAN ANTONIO, Texas – Mercer County's Linda McClanahan bested competitors from around the country at the American Farm Bureau Federation (AFBF) annual convention Jan. 12-15 to take home the Young Farmer & Rancher "Excellence in Agriculture Award."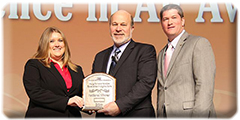 This award recognizes young farmers and ranchers who do not derive the majority of their income from an agricultural operation, but who actively contribute and grow through their involvement in agriculture, their leadership ability and participation in Farm Bureau and other organizations.
McClanahan, who was also winner of Kentucky Farm Bureau's 2013 "Excellence in Agriculture Award," is the Mercer County extension agent for agriculture and natural resources. She also produces a daily radio program on WHBN, writes an article each week for The Harrodsburg Herald, creates industry-focused newsletters for her farming community audience, and offers her expertise as a guest columnist in the Mercer County Cattlemen's Association newsletter.
As the winner of this national competition, McClanahan was presented with her choice of either a 2014 Chevrolet Silverado or a 2014 GMC Sierra, courtesy of GM, and a paid registration to the 2014 Young Farmer & Rancher Leadership Conference in Virginia Beach, Va., Feb. 7-10.
"This award means a lot to me. It means that my work has been impactful, the judges were able to see the importance of the programs that I have done, and they were able to see my passion for agriculture," said McClanahan. "It also means that all the hours, the night meetings, the weekend events, and all the things that I have done have paid off, but, more importantly, that they truly have made an impact on the industry in Mercer County and throughout Kentucky."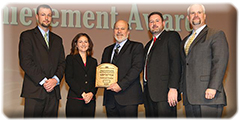 Shelby County's Shane and Mary Courtney emerged as runners-up in the Young Farmer & Rancher "Achievement Award" competition.
This award program recognizes young farmers and ranchers from across the country who have excelled in their farming or ranching operations and exhibited superior leadership abilities. Participants are evaluated on a combination of their agricultural operation's growth and financial progress, Farm Bureau leadership, and leadership outside of Farm Bureau.
"This award is extremely important to us," said Shane. "It gives us the opportunity to look back at the journey we've made starting our operation from scratch and building it into what it is today."
The Courtneys, who were also named Kentucky Farm Bureau's 2013 "Outstanding Young Farm Family," are first-generation farmers on the land they work and own in Shelby County. They raise burley tobacco, corn, soybeans, mixed vegetables, green bell peppers, eggplant, cucumbers, squash and zucchini, specialty peppers, and seedless watermelon. They have both served on Shelby County's board of directors, regularly volunteer their time with several of its committees, and fill leadership roles in a variety of other civic and agricultural organizations.
As the runners-up of this national competition, Shane and Mary will receive a Case IH Farmall 65A, courtesy of Case IH, and $3,000 in cash and STIHL merchandise, courtesy of STHIL.
"The honor is something we have dreamed of forever and just hard to believe that it has happened," Mary said. "This will definitely give us energy to keep going."
Also during the convention:
Janella Miller of Pulaski County was Kentucky's representative in the Young Farmer & Rancher Discussion Meet, finishing in the Sweet Sixteen. This competition simulates a committee meeting in which active discussion and participation are expected. Participants were evaluated on their ability to persuasively exchange ideas and information.
Fayette, LaRue and Nelson County Farm Bureaus were among the 24 counties invited to share their creative programs as part of AFBF's County Activities of Excellence. The displays spotlight innovative programs by county Farm Bureaus in five categories: Education & Agriculture Promotion; Leadership Development; Member Services; Policy Implementation; and Public Relations & Information.
KFB was honored with six Awards of Excellence for demonstrating outstanding achievements in meeting its members' needs in the categories of: Education and Outreach, Leadership Development, Member Services, Membership Initiatives, Policy Development and Implementation, and Public Relations and Communications.
KFB won AFBF's New Horizon Award in the large state category (those with more than 300,000 members) for its social media program. The award is given to the state Farm Bureau with the most innovative new program.

For more information about the 95th American Farm Bureau Federation annual meeting, visit annualmeeting.fb.org.
Top: Linda McClanahan of Mercer County receives the Young Farmer & Rancher Excellence in Agriculture Award from AFBF President Bob Stallman, center, and Mark Gilbert of General Motors.

Bottom: Shane, left, and Mary Courtney of Shelby County receive the Young Farmer & Rancher Excellence in Agriculture Award from AFBF President Bob Stallman, center, and representatives from Case IH and STIHL.