Kentucky Ag News
Stocker outlook for 2014
University of Kentucky College of Agriculture, Food and Environment
LEXINGTON, Ky. – 2014 will likely set an all-time high for calf prices in Kentucky. This does not mean stocker operators cannot make an acceptable profit. However, they will need to have a good handle on their costs and know what their likely sale price will be in the fall to know what they can bid on calves this spring. This article is meant to provide the baseline for estimating these buy prices, and to help stocker operations plan for 2014.
The last two years have brought both extremes in profitability for stocker operations, and they can provide a great deal of insight into how grain markets impact feeder cattle markets. In 2012, weather challenges led to a much smaller corn crop than would have been expected from the acreage planted. The result was a substantial increase in corn prices during the summer. This led to sharp decreases in feeder cattle prices, which meant that summer stocker operators sold feeder cattle in the fall for much less than was expected when calves were placed in the spring. Furthermore, the dry conditions greatly impacted forage production. The result was a very challenging year for profitability, especially for those who did not protect their sale price when calves were purchased in the spring.
2013 was almost the complete opposite and ended up being an incredible year for stocker operations. Weather was extremely favorable for row crop production, which resulted in excellent corn yields. The result was a substantial decrease in corn prices during the summer. This led to sharp increases in feeder cattle prices, which meant that summer stocker operators sold feeder cattle in the fall for much more than was expected when calves were placed in the spring. This bull feeder cattle market combined with good pasture growth produced very favorable returns to stocker operations in 2013.
Feeder cattle prices have risen sharply since fall 2013, with the summer and fall CME© contracts up by around $10 per cwt. since November 2013. This increase in deferred feeder cattle futures has been largely behind a market run-up in calf prices since the first of the year. In most years, the price of these calves doesn't peak until grass comes in the spring.
Fall feeder cattle futures (adjusted for basis) are typically the best way to estimate likely feeder cattle values for fall, the expected revenue for a summer stocker program. Grazing costs, including pasture costs, veterinary and health expenses, hauling, commission, etc., can be estimated and subtracted from the expected value of the fall feeders. Once this has been done, a better assessment can be made of what can be paid for stocker cattle this spring in order to build in an acceptable return to management, capital, and risk.
Key assumptions for the stocker analysis are the following: 1) Graze steers April 1 to October 1 (183 days), 1.4 pounds/day gain (no grain feeding), 2% death loss, and 4% interest on calf. Given these assumptions, sale weights would be 756 pounds and 856 pounds for 500-pound and 600-pound purchased calves, respectively. Using a $176 CME© futures contract for October 2014 to estimate sales price, a 756 steer is estimated to sell for $169.50, and an 856 steer is estimated to sell for $161.50. This amounts to an $8 per cwt. price slide for heavyweight steers, which is much higher than what was used last year due to the impact of lower-than-expected corn prices and a higher overall feeder cattle market. These sale prices are based on the assumption that cattle are sold in lots of 40 or more head.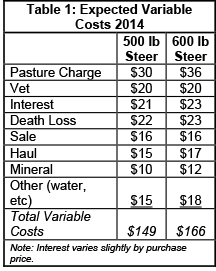 Estimated costs for carrying the 500- and 600-pound steers are shown in Table 1. Most of these are self-explanatory except the pasture charge. Stocking rates of 1.0 acre per 500-pound steer and 1.2 acres per 600-pound steer were assumed to come up with these charges. The pasture charge accounts for variable costs such as mowing, fertilizing, and re-seeding. The last of these pasture costs are on a pro-rated basis and are considered a bare-bones scenario. These costs will be much higher in some situations, and producers should adjust accordingly.
Target purchase prices were estimated for both sizes of steers and adjusted so that gross returns over variable costs ranged from $50-150 per head. This gives a reasonable range of possible purchase prices for each sized animal this spring. Results are shown in Table 2. For 500-pound steers, target purchase prices ranged from $1.97 to $2.16 per pound. For 600-pound steers, target purchase prices ranged from $1.78 to $1.94 per pound. When targeting a $100-per-head gross profit, break-even purchase prices were $2.07/lb. for 500-pound steers and $1.86/lb. for 600-pound steers.
Of course, it is highly likely that your cost structure will be different than that presented in Table 1. If this is the case, simply shift the targeted gross profit up or down to account for this. If your costs are $25 higher per calf, then you would shift each targeted profit down by one row. For example, you would use the $125 gross profit to estimate a $100 gross profit. Another way to evaluate this is that a $1 increase in costs would decrease the targeted purchase price by $.20 per cwt. for 500-pound steers and $.16 per cwt. for 600-pound steers.
It is important to note that the gross profits in table 2 do not account for labor or investments in land, equipment, fencing, and other facilities (fixed costs). Thus, in the long run, these target profits need to be high enough to justify labor and investment.
Calf prices will be considerably higher in 2014 than what was seen during 2013. Thus, it is important to be prepared for this sticker shock so that you can make rational decisions. Remember to look at the margins and not absolute prices.

With calf prices at such high levels, and with the potential for them to move even higher, summer grazers will have a great deal of money at stake in 2014. Furthermore, if we have learned anything over the last few years, it is that feeder cattle markets are highly volatile, especially during the corn growing season. Thus, price risk management will be critical as calves are placed this spring. Moreover, if you can lock in an acceptable profit, you will be more confident in bidding on calves and less concerned about market risk.

Hedging, through the sale of futures contracts, provides solid downside risk protection but will subject the producer to margin calls if cattle prices increase. Entering a cash-forward contract with a feedlot or order buyer, or offering cattle through Internet sales with delayed delivery, will reduce or eliminate price uncertainty but will also limit marketing flexibility should weather conditions necessitate sale at a different time. Finally, put options and Livestock Risk Protection (LRP) Insurance offer a less aggressive strategy that provides some downside price protection but more ability to capitalize on rising prices. Regardless of what makes the most sense for the individual producer, time spent considering price risk management is likely time well spent in these volatile markets. Links to two publications on using futures markets to manage price risk in feeder cattle, and a publication on the use of Livestock Risk Protection Insurance, can be found on the livestock page of the UK Agricultural Economics website: http://www.ca.uky.edu/agecon/index.php?p=41. The best way to ensure profitability is to budget carefully and to manage downside price risk.
This article was written by Greg Halich and Kenny Burdine, agriculture economists in the University of Kentucky College of Agriculture, Food and Environment. The article first appeared in the March 28 edition of Economic and Policy Update.