Kentucky Ag News
Ag trade update: Strong dollar may affect some U.S. agricultural exports
University of Kentucky College of Agriculture, Food and Environment
LEXINGTON, Ky. - Agricultural trade has been a significant contributor to the growth in U.S. and Kentucky agriculture in recent years. Nationally, agricultural exports established a record $152 billion in FY2014, nearly a 60 percent expansion in five years despite sluggish economic growth in many importing markets. Like the U.S, Kentucky agriculture has benefited greatly from increasing trade opportunities with ag exports more than doubling over the past decade.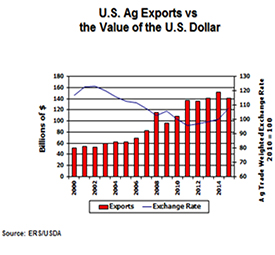 One of the economic factors contributing to the growth in U.S. agricultural trade in recent years has been the sustained period of a relatively low-valued U.S. dollar. However, this trend has changed dramatically over the past 12 months as the value of the U.S. dollar has increased considerably compared to currencies of some of our major export customers and competitors. Over the past year, the U.S. dollar has appreciated nearly 40 percent against the Brazilian real, 26 percent against the Euro, 17 percent vs. the Mexican peso, and 11 percent vs. the Canadian dollar. However, the dollar has been fairly stable against the currency of our largest U.S. agricultural customer – China. The dollar's appreciation reflects investors' perception of the strength of the U.S. economy and its political and economic stability relative to other markets. Plus, anticipation of a Federal Reserve interest rate hike later this year is expected to keep the U.S. dollar relatively strong for the foreseeable future. Despite recent strengthening, the value of the U.S. dollar still remains considerably below its level observed during the early 2000s.
Exchange rates affect a nation's price competitiveness in global markets. In general, a higher valued dollar increases the prices of U.S. agricultural items in global markets while reducing the price of imported goods. But the effect on various commodities and products varies. Stable grower prices coupled with a declining U.S. dollar relative to the Brazilian real resulted in the U.S.-Brazilian price differential for tobacco to virtually disappear from 2010-2012. Consequently, demand for U.S. burley in international markets was relatively strong during this period. But the recent strength of the U.S. dollar has been a major contributing factor leading to the price differential between U.S. burley and imported burley widening by approximately 40 cents per pound since 2012. In a recent article by Dr. Darryl Ray and Hardwood Schaffer, the authors argue that the higher-valued dollar will potentially have a much greater negative impact on beef exports than on grain exports, which the latter they declare is more affected by political decisions and residual supplies available in other markets (http://agpolicy.org/weekcol/765.html).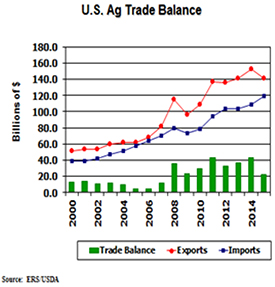 According to the USDA, the U.S. agricultural exports are expected to fall by approximately 10 percent in FY 2015, to around $140 billion, which would still be the second- or third-highest level on record. Declining exports combined with continued growth in imports is expected to cause the U.S. ag trade surplus to decline to $22.5 billion in FY 2015 – almost 50 percent lower than its record high of $43.3 billion in FY 2014 and its lowest level since 2007. While exchange rates will continue to play an important role in U.S. agricultural trade, future export trends hinge more on global income growth, trade agreements, and, of course, weather-induced supply events.
This article was written by Will Snell, agriculture economist at the University of Kentucky College of Agriculture, Food and Environment. The article first appeared in the April 27 edition of Economic and Policy Update.