Commissioner's Comments
Appalachia Proud showcases eastern Kentucky producers' 'Mountains of Potential'
Agriculture Commissioner James Comer
A little more than a year ago, we unveiled Appalachia Proud, a brand for farm products produced in 37 eastern Kentucky counties. The first step in the Appalachia Proud project was to tell the stories of farmers and food producers in the region. Since the February 2014 launch, the Kentucky Department of Agriculture has told the stories of Appalachia Proud businesses that are succeeding with the help of the department's marketing office, the growing demand for local products, and their own efforts.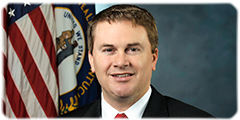 Last fall, we introduced you to Rock Bottom Stables and Soap Co. of Laurel County. Owned and operated by the husband-and-wife team of Amy Henson and Wes McFadden, Rock Bottom produces goat milk soaps, lotions, and other products made with milk from their own goat herd. Rock Bottom was among dozens of Kentucky Proud businesses – including Appalachia Proud members Lucky Clover Farm of Richmond, makers of jams, jellies, and preserves; and Singing Hills Goat Farm of Corbin, another producer of goat milk soaps and lotions – that began selling their products in 88 Kroger supermarkets throughout the Commonwealth thanks to contacts made through the KDA's marketing office.
Danny Townsend, owner and operator of Townsend Sorghum of Montgomery County, is a founding member of both Appalachia Proud and Homegrown By Heroes, the Kentucky Proud brand that designates farm products produced by Kentucky military veterans. Danny raises sorghum and vegetables on his fifth-generation family farm. Sorghum is a crop that's been around for generations, but it's enjoying a newfound popularity as a natural sweetener. Townsend has found success not only selling it as a stand-alone product but also infusing it into other products such as a limited-run craft beer created last year by West Sixth Brewing and Country Boy Brewing of Lexington – adding value to both products.
The Chop Shop is a Wolfe County meat processing plant that serves livestock farmers all over eastern Kentucky. Opened in October 2013, The Chop Shop is the largest U.S. Department of Agriculture-inspected processor in the region. It supplies Appalachia Proud burgers to Whitaker Bank Ballpark for Lexington Legends home games.
We at the KDA are thrilled that we were able to help these producers, and many more like them, in some small way. But their success wouldn't have happened without their hard work, dedication, and creativity. That's the story of Appalachia Proud. That's the story we will tell in the weeks and months to come.