Kentucky Ag News
Kentucky State Fair Board appoints Kelly executive director of expositions
Special to Kentucky Agricultural News
LOUISVILLE - Deputy Kentucky Agriculture Commissioner Steve Kelly of Owen County has been named executive director of expositions for the Kentucky State Fair Board effective Sept. 16. Kelly will oversee the National Farm Machinery Show, the Kentucky State Fair, and the North American International Livestock Exposition.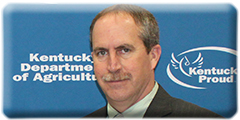 Kelly has served in the Kentucky Department of Agriculture since 2008 as executive director of budget and personnel and most recently as deputy commissioner. Prior to his work at the KDA, Kelly worked in the Kentucky Transportation Cabinet for 19 years.
An Owen County native, Kelly has extensive involvement in agriculture, including serving as president and vice president of the Owen County Cattlemen's Association, Owen County Agricultural Development Board, the local Kentucky Farm Bureau board, the Owen County Fair Board, 4-H livestock advosir, and the Owen County Cooperative Extension Board.
Kelly and his family own S&K Farms in New Liberty, a registered Charolais cattle operation.