Commissioner's Comments
Thank you, Kentucky, for four great years
Agriculture Commissioner James Comer
Nearly four years ago, my staff and I came to the Kentucky Department of Agriculture with a vision to grow the agricultural economy in Kentucky and refocus the Department on its mission to promote Kentucky agriculture and protect Kentucky consumers. As my term as your Commissioner of Agriculture draws to a close, here is my report card to you.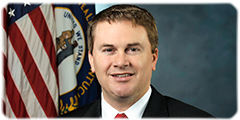 From the outset, we sought to instill a culture of transparency, efficiency, and accountability necessary to restore public confidence in the Department. My first act as Commissioner was to ask the state auditor to conduct a comprehensive audit of the Department. We brought talented, dedicated people into key positions and cut our payroll down to what was actually needed to get the job done. We shut down the Department's money-losing fuel testing laboratory, auctioned the equipment for more than its original value, and returned the $1.65 million appropriation for the lab's construction to the taxpayers.
In the midst of making fundamental changes to the structure of the Department, we were driving Kentucky Proud to new heights. We launched targeted marketing initiatives such as Homegrown By Heroes, Appalachia Proud, and Udderly Kentucky, and we helped producers get their products on retail shelves. Today, Kentucky Proud is a household name throughout most of Kentucky, and hundreds of farmers and small businesses are reaping the rewards.
With an eye toward both Kentucky agriculture's past and its future, we set out to restore industrial hemp production to its rightful place. We revived the Kentucky Industrial Hemp Commission and pushed for bipartisan passage of legislation legalizing hemp production in Kentucky. The momentum we created spread to Washington, where Senate Majority Leader Mitch McConnell successfully inserted language in the 2014 farm bill clearing the way for industrial hemp pilot projects in states where hemp production is legal. We just completed our second year of hemp projects in Kentucky, and I'm confident our efforts will position Kentucky as the epicenter of industrial hemp production in the United States.
Our staff in the Office of Consumer and Environmental Protection stepped up to implement time-saving measures that cut inspection times for fuel pumps from more than a year to less than six months. Other efficiencies were added to make the office more accountable and transparent. The staff embraced the changes, and now the office can do more with less and in less time.
Serving as your Commissioner of Agriculture has been a great honor. As I move on to the next chapter in my career, I'm deeply grateful to my family for their patience and support. I'm grateful to the staff of the Kentucky Department of Agriculture, the best workforce in state government. I'm grateful to the leaders of Kentucky's commodity groups and agricultural organizations who worked with me to chart a prosperous course for Kentucky agriculture. And I'm grateful to all of you for your confidence in me. Best wishes to you all, and do not hesitate to contact me if I can ever be of assistance.