Commissioner's Comments
Commissioner Quarles: I'm ready to take on the challenges facing Kentucky agriculture
Agriculture Commissioner Ryan F. Quarles
Being the Commissioner of Agriculture for Kentucky has been a childhood dream of mine, and it is a great honor and privilege to serve as your next Commissioner. Having grown up on a farm, I understand the challenges and struggles that we will face as a community in the coming years. As your Commissioner, I am committed to facing these challenges head-on and running a Department of Agriculture that is efficient, transparent, and one that will make all Kentuckians proud.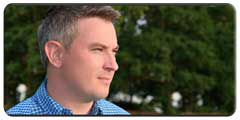 My transition team and I are building an experienced and dedicated team at the Department. I am especially excited about our new chief of staff, Keith Rogers. Keith is an exceptionally talented individual who has decades of experience in both state and national agricultural affairs. From heading the Governor's Office of Agricultural Policy to his recent stint as executive director of the Kentucky 4-H Foundation, Keith is uniquely qualified to lead our team in advancing the interests of Kentucky agriculture. I'm proud to have him on board.

Just as previous commissioners have emphasized, the Department of Agriculture will be a vocal advocate for Kentucky farm products. From hemp to horses, Kentucky has a proud agricultural tradition. We will continue to highlight not only our state's agricultural products but also the economic impact agriculture and agribusiness have on the Commonwealth.

In the coming weeks and months, we will introduce and implement an agenda for the Department that focuses on growing our markets and consumer base for all products. Our plan will continue to ensure a safe and reliable food supply that Kentuckians and people across the nation have come to expect from us. And on a more basic level, we hope to educate Kentuckians on how food travels from your farm gate to their dinner plate. It is important we communicate the positive narrative of our industry.

We are excited to begin working on improving the lives of all farmers across Kentucky. Whether that entails maintaining safety standards or serving as Kentucky agriculture's biggest cheerleader, our department is here to help.

We look forward to working with all of you over the coming years, and please know that our door is always open. We all have the same goal: to make Kentucky agriculture the finest industry in our state. Please do not hesitate to contact us with any ideas you may have to accomplish our mission. Happy New Year, and may 2016 be a prosperous year for Kentucky agriculture.