Kentucky Ag News
The winter wheat safety net adjusts lower again for 2017
University of Kentucky College of Agriculture, Food and Environment
LEXINGTON, Ky. - The 2014 Farm Bill made crop insurance the primary safety-net program with the traditional Title I farm bill programs of Agricultural Risk Coverage (ARC) or the Price Loss Coverage (PLC) in place to provide additional shallow loss coverage. Revenue Protection (RP) crop insurance is more widely used than the yield only products due to the ability to insure against lower yields and/or lower prices at harvest. RP insurance price protection is based on the commodity futures prices prior to planting and harvest. The price protection ebbs and flows with the market from year-to-year which means that the safety-net protection can vary significantly from the previous crop-year. Figure 1 shows the crop insurance final insurance price guarantee from 2007 to 2017. Unless prices increase at harvest-time, the 2017 price guarantee is $0.45/bushel lower than last year's price protection and $3.98/bushel lower than the price protection provided by RP insurance for the 2013 crop.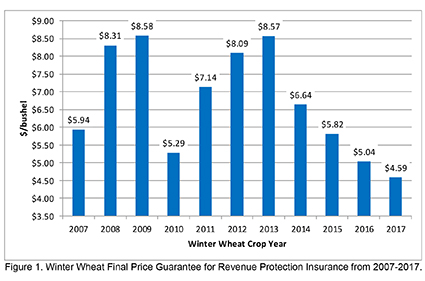 How has this revenue safety-net changed since 2013? Figure 2 shows the revenue guarantee provided for a wheat farm with an insured yield of 70 bushels per acre for RP insurance coverage levels ranging from 60% to 85% of the insured yield. Like any insurance product, there is a deductible which means that farmers are not able to insure at the full value of expected revenue; hence, the maximum coverage is limited to 85% of the insured yield.

Figure 2 compares the revenue protection provided by the 2013, 2016 and 2017 RP projected prices. The insured prices for RP insurance for wheat in 2013, 2016 and 2017 were $8.57, $5.04 and $4.59 per bushel, respectively. The 2017 projected budgeted total variable cost for wheat of $276 per acre (red line) and the total variable cost plus cash rent of $466 per acre (black line) based on preliminary UK crop enterprise budgets are also included in Figure 2.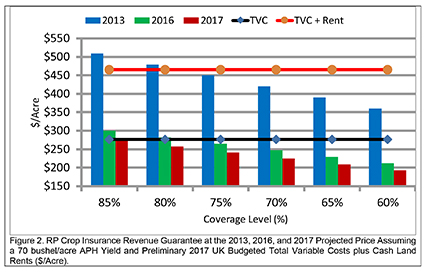 As commodity prices have fallen significantly from 2013, the safety-net RP insurance provides is much lower protection relative to total variable costs plus cash rent. At the 2013 projected prices (blue bar), it may have been possible to have a safety-net that covered total variable costs plus cash rent at the 80% coverage level. For 2016 (green bar), a revenue guarantee at the 80% coverage level may just cover total variable costs but not cash rent expense. For 2017 (red bar), protection at the 85% coverage level may just cover projected total variable costs of producing wheat.
Figure 2 shows that the revenue guarantee at the 75% coverage level declined from $450/acre in 2013 to $241/acre for 2017 (Figure 2). Farmers have lost $209/acre in revenue protection at the same coverage level from 2013 to 2017 assuming the same insured yield. Those normally purchasing RP insurance at the 65% coverage level have experi-enced a $181/acre reduction in revenue guarantee from 2013 to 2017 assuming the same insured yield (Figure 2).

Implications for Grain Farmers

Current profitability projections suggest that farmers will have to prepare to manage negative margins for the 2017 wheat crop unless they harvest larger than expected yields or receive higher than expected prices at harvest. The projected negative margins will need to be off-set by very profitable double-crop soybeans, increased operating debt or use of the farm's working capital. The RP insurance safety-net is not providing the same protection as in previous crop years suggesting that managers will need to be diligent with pricing opportunities and reduce costs wherever possible.

The positive aspect of crop insurance is that indemnities are paid as soon as possible whenever losses are incurred. The farm bill programs do not make payments until October after the end of the commodity's marketing-year. This means that any ARC or PLC payments for the 2017 wheat crop would not be received by farmers until October 1, 2018, at the earliest. While every dollar helps with managing cash flow deficits, the timing of the farm program payments will not provide immediate relief for farms with liquidity problems.

This article was written by Todd D. Davis, assistant Extension professor at the University of Kentucky College of Agriculture, Food and Environment. The article first appeared in the August 26 edition of Economic and Policy Update.