Kentucky Ag News
2017 KFB Outstanding Young Farm Family Finalists Named
Kentucky Farm Bureau
LOUISVILLE – The Kentucky Farm Bureau "Outstanding Young Farm Family" competition annually recognizes an individual or couple ages 18-35 who has exhibited the strongest farm management skills, most consistent financial growth and highest level of involvement in both Farm Bureau and their community.

Each year, county Farm Bureaus are encouraged to promote the Outstanding Young Farm Family (OYFF) competition among young farmers, recognizing them both in their chosen occupation and for leadership achievements. From there, each county OYFF winner is then eligible for the district and state competition.
This year, the top three state finalists are Matt and Amanda Gajdzik of Shelby County, Ben and Katie Furnish of Harrison County, and Nicholas and Bethany Hardesty of Meade County.

Matt and Amanda Gajdzik
The Gajdziks have been involved in farming most of their lives. Matt, although not born on a farm, had the benefit of spending time on a dairy operation at a young age. His love for agriculture grew from there, encouraging him to become a first-generation farmer.
Amanda grew up on her family's diverse grain, cattle and tobacco operation. Both received college degrees in agriculture and began their first farming endeavor together in 2002 with 10 cows. The two worked public jobs while growing the farm, and today their operation consists of 2,000 acres of corn, soybeans, burley tobacco, apples, peaches and hemp. They also raise cattle and grow pumpkins and hay.

The couple adds to their business with a catering service. Their plunge into the produce industry came in 2010 recognizing the need in their community for a local orchard. They now have an on-farm market to sell their produce along with other locally produced goods such as eggs, honey, meats, vegetables and crafts. Through strategic planning and a bit of learning from their mistakes, the couple has doubled the foot traffic in their market every year since it began.

They are members of the Shelby County Farm Bureau. The couple has two children and plan on expanding their farming operation all in an effort to build a farm of which their children can be proud.

Ben and Katie Furnish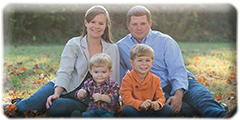 In 2003, Ben bought his first group of cows and raised his first tobacco crop utilizing the farming background he grew up with on his parents' 176-acre cattle and burley tobacco operation. From that point, he expanded significantly on what his father had started and purchased his first farm of 46 adjoining acres in 2005.
Over the next decade, he would continue to grow through purchased and leased land. Today, he and his family operate on more than 2,200 acres of owned and leased land. Farm production includes stocker steers, burley tobacco, corn, soybeans, wheat, mixed hay and, for the last three years, industrial hemp.

The Furnishes also custom harvest hay for a neighboring farm, and custom harvest grains for neighboring farms when needed. Katie has a degree in nursing and works part-time as an RN at their local hospital. The couple has three children. Ben, who has a degree in agriculture economics, uses the Kentucky Farm Business Management program to help compare his family operation to others of the same size in an effort to improve and be more profitable.

The couple plans to expand their stocker operation in the future while also looking "heavily" at expanding their feeder calf operation. This would allow for another source of natural fertilizer and lower their input cost without sacrificing crop yields.

Ben and Katie are members of Harrison County Farm Bureau and are active in many other organizations. They also enjoy many family activities, including being active in their church and participating in local recreational baseball.

Nicholas and Bethany Hardesty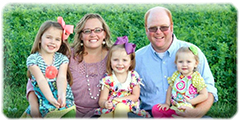 The Hardestys, who own a farming operation in Meade County, have a simple philosophy in life: family and Christian values come first, then everything will work itself out. That way of thinking has worked well for this couple, both of whom grew up with agricultural backgrounds. Today they operate a tobacco, corn, soybean, and hay operation while also raising cattle on their nearly 600 acres of owned and leased land.
The couple views their tobacco operation as being unique in today's agricultural environment and have invested in a tobacco supply business and additional greenhouses (they have a total of nine) to produce plants. They supply ag supply centers with most anything a farmer would need to raise a crop of tobacco. They also do some direct sales.

During his freshman year in high school in 2000, Nicholas joined his FFA chapter and chose tobacco production as his Supervised Agriculture Experience (SAE). That began his career in tobacco production with 3 acres. In 2001, he bought his first two feeder calves, beginning his involvement in the cattle business. The couple purchased their first farm in January 2011.

While Nicholas is in charge of the day-to-day operations on the farm, Bethany worked off the farm until late 2014 when she took over, full-time, managing the books and payroll, taking care of all H2A paperwork and filing, along with taking care of much of the greenhouse work.

The couple, who are members of Meade County Farm Bureau, looks to expand their farming operation in the future. Those expansions include adding more greenhouses, increasing the cattle herd size and increasing the grain storage capability on the farm.

Nicholas and Bethany are the parents of three daughters and still are active in local 4-H and FFA activities as well as being involved in their church.