Kentucky Ag News
Vol. 10 No. 14 • July 17, 2017
Several hundred Kentucky youth will learn hands-on gardening and cooking skills this summer thanks to a Kentucky Department of Agriculture "Ag Tag" program grant.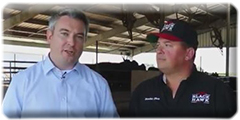 On the July episode of "Commissioner's Comments," Agriculture Commissioner Ryan Quarles talks about Kentucky Proud beef producer Black Hawk Farms, the recent LAND meetings, and farmers' markets. (video)
Sean Southard of Louisville has been named the Kentucky Department of Agriculture's director of communications, Agriculture Commissioner Ryan Quarles has announced.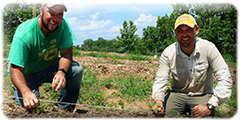 The Lexington-based Kentucky Proud brewer took a big step in that direction in June, planting 325 hop vines on a one-third-acre "hop yard" on a sunny hillside off Shadrick Ferry Road north of Frankfort.

Kentucky Farm Fact
Kentucky has more than 160 farmers' markets in 112 counties that reported more than $13 million in sales in 2016. #KyAg365