Kentucky Ag News
Vol. 10 No. 20 • October 18, 2017
Agriculture Commissioner Ryan Quarles announced that the Kentucky Department of Agriculture (KDA) has opened the application period for Kentuckians wishing to participate in the state's industrial hemp research pilot program for the 2018 growing season.
Kentucky Proud fruit and vegetable producers and buyers are invited to a meeting Nov. 8 aimed at helping participants make connections that will generate business opportunities.
"I want to congratulate Heaven Hill on the expansion of its Bernheim facility in Louisville and for its new $10,000 partnership with Dare To Care Food Bank," Commissioner Quarles said.
Autumn provides a great opportunity for Kentuckians to get outside and explore the many agricultural destinations in our state.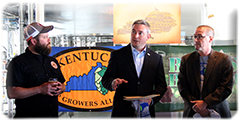 Agriculture Commissioner Ryan Quarles joined lawmakers and representatives of the Kentucky Guild of Brewers and the Kentucky Hop Growers Alliance to commemorate Kentucky Proud Beer Week.

Gail and Eric Silverman and their son, Justin, are East Coast transplants – and that may be one reason why they're so excited about Kentucky Proud products.
The KDA's David Wayne talks about the success and growth of the chemical container recycling program since its inception in 1991. (audio)
"Without the Microloan obtained through USDA's Farm Service Agency (FSA), we would not have been able to expand to the operation we have now," said Aaron Briner, who with his wife Laura owns Laughing Lab Acres.