Kentucky Ag News
Ag Development Board invests $5.6 million in marketing and diversification projects
Governor's Office of Agricultural Policy
FRANKFORT, Ky. - The Kentucky Agricultural Development Board (KADB), chaired by Governor Steve Beshear, approved $5,586,102 in 14 agricultural diversification projects across the Commonwealth during its board meeting Dec. 14 at the Capitol.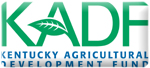 State and regional investments included:
$1,863,900 Statewide Dairy Marketing
The Kentucky Dairy Development Council Inc. was approved for $1,863,900 in state funds to be disbursed over two years to continue educating and promoting Kentuckys dairy producers and the dairy industry as a whole, including the Market Incentive Leadership for Kentucky (MILK) program.

$1,580,947 Statewide Livestock Marketing Program
The Kentucky Beef Network was approved for $1,580,947 in state funds to be disbursed over two years to continue training beef cattlemen to produce and market a quality product at a reasonable and sustainable profit through new programs such as Professional Cattlemen and Young Cattlemen/Farm Link, along with continuing programs like Marketing Communications, Master Cattleman and more.
$1,325,000 Horticultural Crop Production & Marketing
The Kentucky Horticulture Council was approved for a total of $1,325,000 in state funds to be disbursed over two years to continue work in the expansion and profitability of horticulture crop producers through on-farm demonstrations, consultations, development of marketing systems, market research and more.
$33,850 Chia Feasibility Study
Kentucky Specialty Grains LLC was approved for $33,850 in state funds to conduct a study on the market development and feasibility of processing chia for seed, oil, meal and flour.
The County Agricultural Investment Program (CAIP) is designed to provide farmers with incentives to allow them to improve and diversify their current production practices. CAIP covers a wide variety of agricultural enterprises in its 11 investment areas. Three CAIPs were approved by the board totaling $430,842 for Johnson, Madison and Ohio counties.
In addition to these new approvals, an additional $308,237 was approved to supplement existing CAIPs in the following counties: Fayette, Franklin and Lewis.
The Deceased Farm Animal Removal Program serves as a measure to facilitate the coordination of environmentally sound and cost-effective disposal of deceased livestock for Kentucky producers. Two County Deceased Farm Animal Removal Programs were approved for Clark and Hart counties totaling $15,000.
The Shared-use Equipment Program is designed to benefit a high number of producers who cannot justify ownership expenses associated with certain equipment by helping them access technology necessary to improve their operations in an economical manner. Two Shared-use Equipment Programs were approved by the board in the amount of $28,326 for Clay and Franklin counties.