Press Releases
Cut your own Christmas tree at a Kentucky Proud farm near you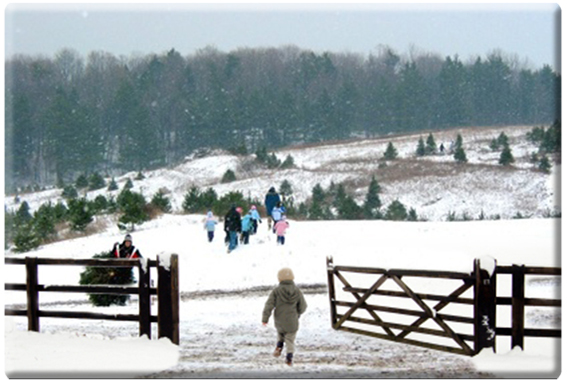 FOR IMMEDIATE RELEASE
Monday, November 19, 2012
For more information contact:
Holly VonLuehrte
(502) 573-0450
FRANKFORT, Ky. Cutting your own Christmas tree brings to mind a Currier & Ives image of a 19th century family in a one-horse open sleigh towing a large pine through a snow-covered field. Kentuckians can experience the modern-day equivalent on farms throughout the Commonwealth.

Christmas tree farms enable families to make holiday memories, Agriculture Commissioner James Comer said. They also help Kentucky farmers make a living. I encourage all Kentucky families to buy a fresh Kentucky Proud tree this holiday season.

At Barkers Christmas Tree Farm near Lexington, owner Dale Barker will let customers borrow a small sled or wagon to tow the tree back to your car, as well as a bow saw for cutting.

The majority of the industry in Kentucky is choose and cut, said Barker, president of the Kentucky Christmas Tree Association (KCTA). Its an agritourism thing. The kids enjoy going out in the field.

To encourage their parents to return the next year, Barkers takes photos of each family and posts them the following year for pick-up.

They have to come back the next year to get their picture, said Barker, who has about 600 photos from last year displayed in a small barn. Weve had people collect pictures for 10 years. You watch their kids grow up.

The KCTA website lists 18 member farms across the state.

We have people from Owensboro to northern Kentucky that raise trees, Barker said. Most people make wreaths and sell tree stands. A few do garland. Some people even get further into agritourism with hayrides.

Barker said no figures are available on how many Christmas trees Kentucky produces. He sells 500-600 per year, priced from $32 to $100, but 100 of those are Fraser firs he imports annually from North Carolina. Our general trees, scotch or white pines, are $32 any size, Barker said.
Barker is concerned about the future of Kentuckys Christmas tree farms due to the advancing age of KCTA members. Im 53 and may be the youngest one in our association, Barker said. Theres room for others. The market is out there.
But its not something people jump into very often. Its a long-term proposition because it takes seven years before your first trees are ready for harvest.

Barker said last summers drought was rough on KCTA members.

If you didnt water small trees last summer, you lost them, he said. Normally, you lose 10 to 15 percent of your trees, not 80 to 90 percent. Established trees in good health made it.

To find a Kentucky Christmas tree farm near you, including Barkers, visit www.kychristmastreefarms.com. The Kentucky Department of Agricultures Division of Agritourism website, www.KentuckyFarmsAreFun.com, will soon feature Christmas tree farm listings.

You can also search for Christmas trees under the Find KY Proud Products icon at www.kyproud.com. The Kentucky Proud website lists 90 member businesses in the Commonwealth that sell Christmas trees.