Commissioner's Comments
Agriculture should be part of rural economic development
I visited constituents in four eastern Kentucky counties recently toward my goal of visiting every Kentucky county. While in Breathitt, Knott, Lee, and Letcher counties, I was pleased to get together with local officials, visit with local youth, and make some new friends. I was gratified by the warm welcome I received at each stop.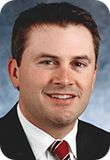 I told the folks there, as I have said since taking office 11 months ago, that I believe agriculture can, and should, be a central part of rural economic development in Kentucky. We have the soil, the climate, the expertise, and the work ethic to produce just about anything. We have the capacity to create opportunities in non-production sectors of agriculture processing, marketing, research, education, and others.
I believe industrial hemp can be part of that mix. It is useful a Congressional Research Service study says hemp is contained in some 25,000 products in the global market and it is easy to grow. Kentucky has been a major hemp-producing state in the past, and it can be again. For that to happen, Congress and the Kentucky General Assembly must pass legislation to remove legal barriers to hemp production. As I write this, three members of Kentuckys congressional delegation have co-sponsored bills that would accomplish that, and I will continue to urge my friends in the General Assembly to do likewise.
Kentucky farm cash receipts set a record at more than $4.9 billion in 2011. Poultry has grown into a nearly $1 billion industry in Kentucky. The Kentucky Agricultural Development Fund has invested more than $385 million in various diversification projects, including Kentucky Proud, the official state farm marketing program. Lets keep the momentum going and bring prosperity through agriculture to Kentucky communities of every size.