Commissioner's Comments
State vet's office performs a critical mission at the North American and all year long
Agriculture Commissioner James Comer
As livestock from across the United States converge on Louisville for the North American International Livestock Exposition Nov. 9-22, I feel the need to share with my fellow livestock producers that it's important for Kentucky and the United States to have a robust system in place to safeguard our livestock from disease.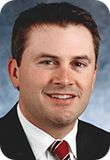 In Kentucky, the brunt of that responsibility falls on the state veterinarian's office. State Veterinarian Robert C. Stout and his staff are charged with protecting the health and welfare of Kentucky's livestock. At the North American, as in all Kentucky livestock shows, they will check the health papers of every animal in the expo. Should an animal disease situation arise, they will act to contain and eradicate the disease.
This mission is critical for the well-being of your livestock and your operations, and even more so for an event of the scope of the North American, the largest purebred livestock exposition in the world. More than 26,000 entries, a record for the expo, were exhibited in 2012. The NAILE hosts shows for dairy cattle, dairy goats, llamas and alpacas, quarter horses, draft horses, market swine, beef cattle, Boer goats, wether goats, and sheep. The 35th Annual North American Championship Rodeo once again will run during the expo on Nov. 14-16.
As I write this, there is talk of bidding to bring the 2018 FEI World Equestrian Games to Kentucky. The 2010 Games at the Kentucky Horse Park were the largest equine airlift in North American history, and should the Games return to the Bluegrass State, Dr. Stout and his staff will be called upon once again to manage the importation of these equine athletes.
The work of the state veterinarian's office is not an elective. It is an absolute necessity. Your livelihoods as livestock producers depend on it. But our resources are limited. You are the primary caregivers for your animals. Help us help you by taking all appropriate biosecurity measures on your farms, consulting your veterinarians when you have a question or concern, and keeping up with alerts from the state veterinarian's office. The last part is easy – go to the state vet's website at www.kyagr.com/statevet, and follow Dr. Stout on Twitter @kystatevet.