Commissioner's Comments
Beef Expo changes to better serve buyers and sellers
Agriculture Commissioner James Comer
We are always looking for ways to keep the Kentucky Farm Bureau Beef Expo growing and promote all the various breeds. At this year's show, Feb. 28-March 2 at the Kentucky Exposition Center in Louisville, you will notice a change that I think will be good for buyers and sellers alike.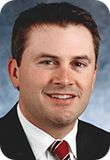 The sale rings will be built to accommodate unhaltered cattle, similar to the setup at the Pen Heifer Show and Sale. Providing access to the sale ring for untrained cattle will attract more producers and more livestock to the Beef Expo while enabling buyers to see these animals in person and giving them more cattle to choose from. This will fill an important need for many Kentucky producers and breeds, and it will create an opportunity for the Beef Expo to continue to grow.
The 28th Annual Kentucky Farm Bureau Beef Expo will include the traditional features you've come to expect from Kentucky's premier purebred beef event — 10 breed shows and sales, the Pen Heifer Show and Sale, the trade show, the junior shows and judging contests, and more.
As usual, Kentucky Department of Agriculture employees will be on hand to keep the Beef Expo running smoothly. Staff from the state veterinarian's office will check the health papers of all the animals that enter the Kentucky Exposition Center. Other KDA employees will help conduct the shows and sales. John Chism, the Department's market news branch manager, is president of the Beef Expo board, and this year we will welcome Carrie Tilghman, our new beef show coordinator, to the KDA team that will work to make the event a success.
The Beef Expo has exceeded $1 million in gross sales each of the past two years. Based on the number of cattle already consigned, I think we'll hit seven figures again this year. It looks like participation in the trade show and other areas also will exceed that of last year's very successful event.
Kentucky is the largest beef cattle state east of the Mississippi River, so it's only fitting that we have an elite purebred beef show. The Kentucky Farm Bureau Beef Expo certainly fits that description, and it just keeps getting bigger and better. As commissioner of agriculture and a cattle producer, I'm proud that Kentucky is a leader in the beef cattle industry, and I'm grateful to all the sponsors, staff, volunteers, buyers and sellers who make the Beef Expo one of the major events of its kind in America.