Commissioner's Comments
The Kentucky Department of Agriculture and our partner organizations will help you through the squeeze of rising input costs
Agriculture Commissioner James Comer
Kentucky farmers took in a record $6 billion in cash receipts in 2013, and yet many of you are finding that it's still a challenge to make ends meet. How is that possible? The 2012 U.S. Census of Agriculture has some answers.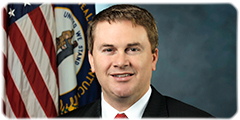 The census — which was released May 2 — shows that the total value of agricultural products sold in Kentucky (minus equine) increased 26.2 percent from 2007 to 2012, but net cash farm income of Kentucky operations fell 31 percent, and average net cash income per farm declined 24 percent.
The National Agricultural Statistics Service, which conducted the survey, said input costs went through the roof during that five-year span. Feed costs jumped 48 percent. The costs of fertilizer, lime, and soil conditioners advanced 53 percent. Fuel costs went up 31.7 percent. The cost of chemicals rose 77.4 percent. Utility expenses were 36.7 percent higher. The costs of cash rent for land, buildings, and grazing fees doubled from 2007 to 2012.
None of that is news to you. You see your input costs going up every time you pay your bills. But these numbers and others drive home the point that it is critically important to continuously improve your operations and squeeze every bit of value out of every dollar you spend on your business. Fortunately, you are not alone.
The Kentucky Department of Agriculture helps farmers find markets for their products and protects Kentucky's livestock herds from foreign animal diseases. The Kentucky Agricultural Development Fund has invested $400 million in Kentucky agriculture since its inception. Your local Cooperative Extension Service agent is your resource "on the ground," giving you unbiased advice and sharing the latest scientific research. Kentucky Farm Bureau and the state commodity organizations are your eyes and ears in Frankfort and Washington.
That you are still going in the face of the onslaught of skyrocketing input costs is a tribute to your will, determination, intelligence, and work ethic. We at the Kentucky Department of Agriculture will do all we can to help you make your business more profitable.