Kentucky Ag News
Vol. 7 No. 14  • July 31, 2014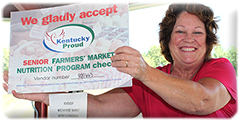 To help Kentuckians age 60 and over, many of whom live on fixed incomes, the 2014 Farm Bill appropriated a $297,388 USDA grant this year for the Kentucky Department of Agriculture (KDA) to distribute through the Senior Farmers' Market Nutrition Program.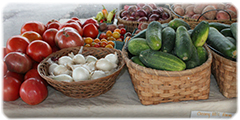 Kentucky consumers can buy nutritious local foods and honor the people who produced them at the same time by visiting a farmers' market during National Farmers' Market Week Aug. 3-9.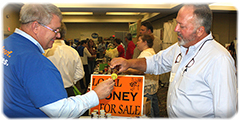 The Kentucky Department of Agriculture's marketing office played matchmaker again July 30, gathering Kentucky Proud vendors and Kroger store managers together in Louisville. Look for photos from the food show on the KDA's page on Facebook.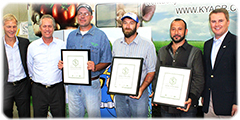 Voting closes July 31. Agriculture Commissioner James Comer and Louisville Mayor Greg Fischer will recognize the winners on opening day of the Kentucky State Fair Aug. 14.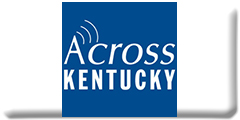 Jefferson County extension agent Wayne Long tells Kentucky Farm Bureau's Mike Feldhaus the Seed to Sale project offers better nutrition as well as teaching youngsters about their own farm-city connection. (audio)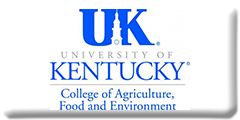 Prices for live hogs have increased 80 percent in the past five years. Grocery store pork prices have risen too, but not nearly as much, only by 30 percent. Nevertheless, pork prices are high – hitting record levels this summer. What's led to the price increases?
Average retail food prices in supermarkets across the state made a small but steady climb in the second quarter of the year, according to the latest Marketbasket Survey.
KFB's Dan Smaldone talks about the survey. (audio)