Kentucky Ag News
Vol. 7 No. 8  • April 16, 2014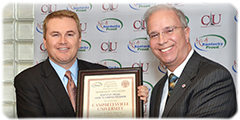 Campbellsville University and Kentucky farmers alike will benefit from CU's entrance into the Kentucky Department of Agriculture's Farm to Campus program, Agriculture Commissioner James Comer said.
Kentucky Proud and the Kentucky Derby Festival once again have teamed up to celebrate the greatest two minutes in sports and fresh, delicious foods raised or produced in Kentucky by Kentuckians.
The Berea College Farm Store will celebrate its official grand opening alongside the spring kickoff of the outdoor Berea Farmers' Market on May 3 on the lawn next to the store at 311 N. Main St.
Agriculture Commissioner James Comer encourages eligible Kentucky entities to apply for funding from the Specialty Crop Block Grant Program. "This sector of Kentucky agriculture has enormous potential for growth," Commissioner Comer said.
In a recent podcast of Kentucky Farm Bureau's "Across Kentucky," Warren Beeler, the Kentucky Department of Agriculture's director of agriculture policy, talked to host Mike Feldhaus about the advances and challenges of modern agriculture. (audio)
The latest Marketbasket Survey, conducted by the Kentucky Farm Bureau (KFB) Federation in March 2014, indicates that average retail food prices in supermarkets across the state are holding fairly steady with just slight increases reported in the first quarter of the year.
At the recent 29th annual MANRRS conference, the University of Kentucky College of Agriculture, Food and Environment's chapter received many awards and honors.
The 2014 Kentucky Farm Bureau (KFB) "Farmer of the Year" application process is now open, and the organization is seeking the Commonwealth's finest nominees for this prestigious award.
Broadbent B & B Foods of Kuttawa, Ky., walked away with a national champion award in the unsmoked category at the National Country Ham Association annual convention in Paducah.
Kentucky Farm Fact
Agriculture accounted for an estimated $46.3 billion in direct and indirect economic impact and more than 263,000 jobs in Kentucky in 2011, according to the University of Kentucky's Economic and Policy Update.