Commissioner's Comments
When you renew your farm license plate, make the voluntary donation for the future of Kentucky agriculture
Agriculture Commissioner James Comer
If you have a farm license plate on your vehicle, you can help advance agricultural education in Kentucky and promote Kentucky farm products.
All you have to do is give a voluntary $10 donation when you buy or renew your farm plates. Your donations are divided equally among Kentucky 4-H, Kentucky FFA, and Kentucky Proud and other Kentucky Department of Agriculture programs.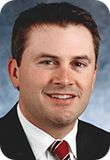 I shouldn't have to sell most of you on the benefits of FFA and 4-H. Like me, many of you were members at one time, and you may be volunteering for one or both organizations now. You may have children or grandchildren who are involved. You know that 4-H and FFA offer constructive and positive activities that give members hands-on experience in agriculture and many other disciplines. You also know that these fine youth organizations help build responsible, hard-working citizens who one day will be Kentucky's leaders, employers, workers, and taxpayers. The shares of the voluntary donations that go to Kentucky FFA and Kentucky 4-H help them reach more Kentucky youths and serve them better.
Kentucky Proud helps Kentucky farmers and food producers find new markets for their products. Our marketing specialists at the Kentucky Department of Agriculture connect producers with retailers and help schools and universities find local foods that they can serve to their students. Homegrown by Heroes enables consumers to identify farm products produced by Kentucky military veterans. Udderly Kentucky identifies milk produced by 105 Kentucky farm families and processed by Prairie Farms Dairy of Somerset. And just recently, we launched Appalachia Proud, a branding initiative designed to spur economic activity and educational achievement in eastern Kentucky. Your donations will enable Kentucky Proud to help more Kentucky farmers and businesses.
For the third year in a row, I am visiting courthouses and schools throughout the state to encourage people to make the donation. I am always encouraged by the warm welcome I receive at every visit, especially from the young people who stop by to let me know how much 4-H and FFA mean to them.
Kentucky motorists gave $482,658.18 in 2013, a 32 percent increase over 2012. But there is plenty of room for this fund to grow. If you feel that FFA, 4-H, and Kentucky Proud are important to your family and your community, please make the $10 donation when you buy or renew your farm plates. It's a small price to pay for a better future for our children and our Commonwealth.