Kentucky Ag News
Kentucky Proud Incredible Food Show celebrates its seventh year with 'The Chew's' Carla Hall
Special to Kentucky Agricultural News
LEXINGTON, Ky. - Daytime TV star and former "Top Chef" contestant Carla Hall will serve as the celebrity chef of the seventh annual Kentucky Proud Incredible Food Show Oct. 24 at The Lexington Center and Rupp Arena.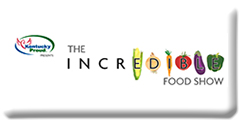 Hall is co-host of ABC Daytime's lifestyle series "The Chew," which features restaurateurs and "Iron Chef America" stars Mario Batali and Michael Symon, entertaining expert Clinton Kelly, and health and wellness enthusiast Daphne Oz. "The Chew" won a 2015 Daytime Emmy for Outstanding Informative Talk Show Hosts. Hall is best known as a contestant on Bravo's "Top Chef," where viewers voted her "Fan Favorite."

Hall, of Washington, D.C., is author of "Cooking with Love: Comfort Food That Hugs You" and "Carla's Comfort Foods: Favorite Dishes Around the World." She owns Carla Hall Petite Cookies in Silver Spring, Md., and plans to open her first restaurant, Carla Hall's Southern Kitchen.

Hall will give performances at 11 a.m. and 3 p.m. EDT in Rupp Arena. The Kentucky Proud Incredible Food Show will run from 9 a.m.-5 p.m. with cooking demonstrations and seminars by local and regional chefs and The Marketplace with more than 100 exhibitors featuring Kentucky Proud products and services.

Tickets to the Kentucky Proud Incredible Food Show will go on sale Friday at 10 a.m. at the Lexington Center Ticket Office at (859) 233-3535 and Ticketmaster.com.

Presale tickets to the $40 reserved section for Carla Hall's cooking demonstrations will go on sale Tuesday at 10 a.m. A limited number of seats located on stage for the 3 p.m. presentation are available for $100 per seat. Non-reserved, general admission tickets are $20 and include admission to the 11 a.m. or 3 p.m. show as well as all seminars, demonstrations and The Marketplace exhibit hall.
For more information, call (859) 233-4567 or visit www.incrediblefoodshow.com.