Commissioner's Comments
Let's build on 2014 successes in 2015
Agriculture Commissioner James Comer
The Kentucky Department of Agriculture kept the Kentucky Proud program growing, helped Kentucky students gain greater access to local foods, and helped restore industrial hemp production to the Commonwealth in 2014. We plan to build on those achievements in 2015 and look for more ways to strengthen Kentucky agriculture.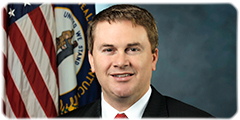 Kentucky produced its first industrial hemp crop in nearly 70 years in 2014, and we're looking forward to following up with a wide scope of pilot projects this year. I'm continuing to work with our congressional delegation to open industrial hemp production to all producers and processors in Kentucky. Finding markets for hemp ultimately will determine the crop's success in Kentucky, and the level of interest we've seen is very promising. Businesses call my office almost daily to express their interest in domestically produced hemp.
We will keep working to expand the reach of Kentucky Proud in 2015. Kroger's Kentucky Proud initiative and the Udderly Kentucky brand in Walmart have been very well received, and we expect those programs to grow while we work to get Kentucky Proud products into more retail stores. These and other projects are helping Kentucky Proud gain a toehold in underserved areas of the Commonwealth. One of these projects is Appalachia Proud, the brand for farm products from 37 eastern Kentucky counties that we launched in early 2014. The new Kentucky Proud website with its state-of-the-art search engine can help consumers and producers find out more about the program no matter where they live.
The Farm to Campus Program welcomed its ninth member last fall, and we expect to announce more new member colleges and universities this year. The state Junior Chef Tournament at the Kentucky State Fair, which recently earned national honors, is gearing up for its third annual competition this year. We're also encouraging more schools to join the Farm to School Program so we can help them serve more local foods to their students.
As usual, Kentucky farmers will be at the mercy of forces far beyond their control. The weather, of course, is always a wild card. As I write this, fuel prices are at historic lows, but that can turn on a dime, subject to the whims of foreign producers. The strengthening U.S. dollar, especially compared to the Russian ruble, could affect agricultural exports. This is a good time to squeeze every bit of efficiency out of your operation and get your risk management strategy in order.
I'll bet it was a farmer who coined the phrase, "Expect the worst and hope for the best." I'm an optimist at heart, as are many of you, but we understand that nothing – either good or bad – lasts forever. Let's use these winter months productively and get ready for a happy, healthy, and prosperous 2015.