Commissioner's Comments
Statistics help us tell agriculture's story
Agriculture Commissioner James Comer
Kentucky Department of Agriculture staff and Kentucky commodity group leaders recently met with David Knopf, regional manager for USDA's National Agricultural Statistics Service. NASS collects all manner of statistical data for Kentucky and U.S. agriculture – numbers and sizes of farms, average age of farmers, value of crops and livestock, farm cash receipts, and much more. Totals are made available to the public by commodity and by state and county.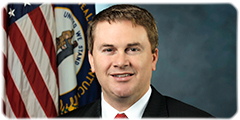 NASS has performed this service for decades, but in recent years it has been forced to change with the times. What once was a dedicated Kentucky office now is a regional office that covers Kentucky, North Carolina, Tennessee, Virginia, and West Virginia due to budget cuts. More recently, NASS has engaged in pilot projects to measure the value of local food, urban agriculture, organic production, and even the value of lost colonies of bees as pollinators. With these projects, NASS is adapting to keep up with changes in American agriculture.
The information NASS gathers is needed for us to measure where we've been, where we are, and where we are going as an industry. You can use these statistics to plan for your operation's future success, while policy makers can use them to serve you better. We also need this data to inform the public that agriculture is a powerful economic engine in our rural communities and in the state and nation as a whole. In Kentucky, farm gate cash receipts are expected to exceed a record $6 billion this year. That means farm income, but that also means jobs on the farm, at the processor, at the retailer – everywhere along the food supply chain.
I encourage all Kentucky farmers to fill out the annual surveys and return them promptly. NASS is required by law to keep your information confidential, and it uses only totals from all the surveys it collects. My staff and I use numbers from NASS as we travel the state to promote Kentucky agriculture.
If you'd like to learn more about what NASS does and what information it publishes, visit its website at www.nass.usda.gov/ky.