Kentucky Ag News
Vol. 8 No. 13 • July 17, 2015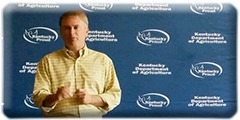 Agriculture Commissioner James Comer joined Livingston Mayor Jason Medley to welcome the Rockcastle County community as the first municipality to join the Kentucky Proud program.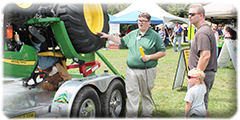 Kentucky will show off its nationally-renowned farm safety program at the Tennessee Farm Bureau Young Farmers and Ranchers Conference July 24-25 in Columbia, Tennessee.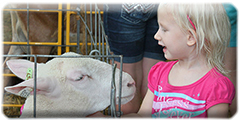 Kentucky Department of Agriculture staff and Kentucky Proud vendors gave workshops and greeted visitors to the Kentucky Farm Fest July 11 in Crestwood. Look for pictures on the KDA's Facebook page.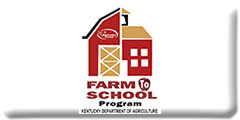 On the "Inside School Food" radio show, the Kentucky Department of Agriculture's Tina Garland talks about the opportunities, obstacles, and successes of the Kentucky Proud Farm to School Program. (Interview begins at 20:26)

Jill Partin was raising and breeding dairy goats three years ago on her Appalachia Animal Farm in Laurel County when she encountered a problem. "I had all this goat's milk that I didn't know what to do with," Jill said.
Kentucky Highlands Investment Corporation and Grow Appalachia announced the creation of a low-interest loan fund for small farmers in the 54-county SOAR region of eastern and southern Kentucky.
Donavyn Coffey will use her Fulbright grant to do graduate study in molecular nutrition and food technology at Aarhus University in Aarhus, Denmark, while also experiencing how another culture approaches food and health.
For the second quarter in a row, the average price of retail food items across the Commonwealth has decreased – even if just by a few pennies.
Reddy Palli assumed his new role July 1 and will also serve as the state entomologist.
Kentucky Farm Fact
Kentucky agricultural exports totaled almost $2.3 billion in 2013, according to USDA's Economic Research Service. Nearly a quarter of that amount was from exports of soybeans.