Kentucky Ag News
Vol. 8 No. 14 • July 31, 2015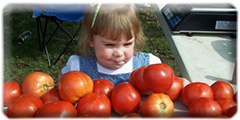 Kentucky's farmers' markets always show their appreciation to their customers, but next week they'll kick it up a notch. Agriculture Commissioner James Comer has proclaimed Aug. 2-8 Farmers' Market Week in Kentucky.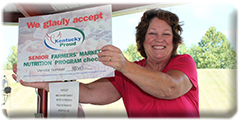 Low-income families can use their SNAP benefits to buy fresh, nutritious local foods at more Kentucky farmers' markets than ever before, Agriculture Commissioner James Comer said.
Kentuckians are invited to select their favorite farmers in online voting for the 2015 Local Food Heroes through
Aug. 5.
Kentuckians whose horses have gone missing can search for them on the Internet using a new database created by the Kentucky Department of Agriculture.

Gallrein Farms in Shelbyville, massive by any standard, is reaching for new markets through agritourism.
Many farmers have heard of GAP – Good Agricultural Practices – but few have any experience with the program.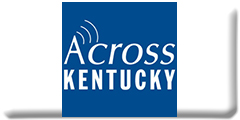 Trinity Shepherd, an interpreter for Jenny Wiley State Resort Park, tells host Mike Feldhaus the Prestonsburg park will help promote Kentucky Proud on Saturday with the inaugural Honey and Beekeeping Expo. (audio)
One hundred years after it opened, one Kentucky company continues to grow its operations. Governor Steve Beshear joined local officials Thursday to cut the ribbon on Specialty Foods Group Inc.'s expanded facility in Owensboro.
As a result of his farming success, Trumbo has been selected as the 2015 Swisher Sweets/Sunbelt Expo Southeastern Farmer of the Year award winner for Kentucky.
The Rural Child Poverty Nutrition Center at the University of Kentucky is accepting grant applications to help lower instances of childhood hunger in some of the nation's most persistently poor areas.