Kentucky Ag News
Vol. 8 No. 9 • May 15, 2015
Kentucky Proud members and a Kroger official say they've seen positive results in the first six months of the partnership.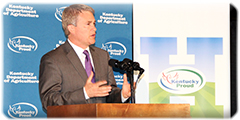 Kentucky Agriculture Commissioner James Comer joined farmers and industry leaders May 5 to lay out an ambitious agenda of industrial hemp research projects and economic development initiatives in Kentucky in 2015.
Agronomists with the University of Kentucky College of Agriculture, Food and Environment began planting their 2015 hemp research plots May 14 on the university's Spindletop Research Farm.

Moss doesn't grow under the feet of a go-getter like Catrina Hill of Louisville.
They come in interesting names like Abe Lincoln, Aunt Lou's Underground Railroad, Black Mountain Pink, Cherokee Purple, Grandfather Ashlock, and Kentucky Cabin.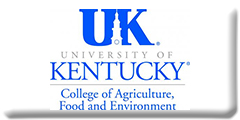 Nominations are due June 15. All nominees will receive information about the program and procedures for submitting the required application, which will be due July 15.
The second edition of Kentucky Farm Bureau's (KFB) pocket-sized guide to state agriculture facts is now available online with updated statistics.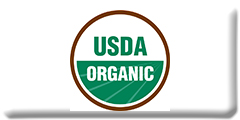 The U.S. Department of Agriculture's Agricultural Marketing Service announced Thursday that approximately $11.9 million in organic certification assistance is available through state departments of agriculture.
A report shows tremendous demand for recent college graduates with a degree in agricultural programs with an estimated 57,900 high-skilled job openings annually in the food, agriculture, renewable natural resources, and environment fields in the United States.
Kentucky Farm Fact
More than 57 percent of all Kentucky farms (43,700) have annual sales of less than $10,000, according to the National Agricultural Statistics Service.