Commissioner's Comments
Together, we can reduce hunger in Kentucky
Agriculture Commissioner Ryan F. Quarles
The Kentucky Hunger Task Force met for the first time June 2 at Gallrein Farms in Shelby County. The task force is part of the Kentucky Department of Agriculture's Hunger Initiative, a first-of-its-kind effort to alleviate food insecurity in Kentucky. Feeding the hungry is a moral imperative. It's also a practical matter that impacts Kentucky's economy.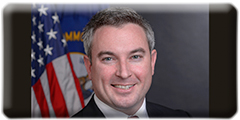 We are bringing together people from various walks of life – agriculture, government, business, education, and many others – to apply their unique perspectives to this persistent problem. In the weeks and months to come, the task force will visit communities across the state to talk to the people on the front lines of the hunger problem about what's working, and what isn't. We also will look for innovative approaches that might be scalable statewide.

For many Kentuckians, the need for action is urgent. Map the Meal Gap 2016, an annual study by Feeding America, revealed that 17 percent of Kentucky's population is food insecure – 1 out of every 6 Kentuckians, including 1 out of every 4 children, nearly three-quarters of a million people in all. You can find more information about the Map the Meal Gap study, including food insecurity statistics by county, at map.feedingamerica.org/county/2014/overall.

No one should have to wonder where their next meal is coming from, no matter what their circumstances or where they live. But having such a dire hunger problem in Kentucky, with its rich agricultural history and abundant natural resources, is unacceptable. That's why my administration chose to take on the hunger problem as one of our first priorities upon assuming office.

The Kentucky Association of Food Banks and its member organizations serve more than 620,100 Kentuckians annually. The association's Farms to Food Banks Program purchases Kentucky-grown surplus and No. 2 grade produce and distributes it to clients through its food bank network – providing fresh, nutritious fruits and vegetables to low-income Kentuckians while providing Kentucky farmers a market for produce that otherwise would go to waste.

As the Hunger Task Force begins its work, I encourage everyone to share your ideas with us. I also urge you to look for opportunities in your communities to help your friends and neighbors. Together, we can enable less fortunate Kentucky families to enjoy fresh, healthy, nutritious foods. Find out more about the Hunger Task Force and the KDA's Hunger Initiative at kyagr.com/hunger.