Kentucky Ag News
Vol. 9 No. 1 • January 13, 2016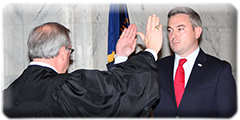 Agriculture Commissioner Ryan Quarles pledged to run an efficient, transparent Kentucky Department of Agriculture that advocates for Kentucky's agriculture industry as he and other state constitutional officers were sworn into office.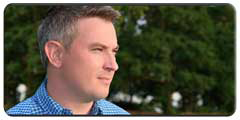 Being the Commissioner of Agriculture for Kentucky has been a childhood dream of mine, and it is a great honor and privilege to serve as your next Commissioner.
Agriculture Commissioner Ryan Quarles announced that he will launch a commission on hunger later this month.
Watch Commissioner Quarles' remarks.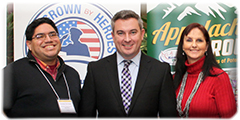 Agriculture Commissioner Ryan Quarles attended the Kentucky Fruit and Vegetable Conference and visited with the Kentucky Grape and Wine Council on Jan. 5. See more pictures on Facebook.
While Kentucky's honey bees are clustering through the winter, beekeepers will have opportunities to sharpen their skills in schools throughout the Commonwealth.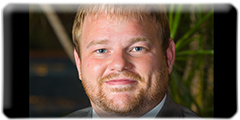 Kentucky Commissioner of Agriculture Ryan Quarles announced that Brent Burchett of Murray, Ky., will serve as director of the Kentucky Department of Agriculture's Division of Value-Added Plant Production.
Kentucky Farm Bureau President Mark Haney says farmers have at the top of their list maintaining 50% of Master Settlement Agreement funds for rebuilding ag infrastructure and adequate funding for the state ag department. (audio)
Sand County Foundation, the Kentucky Agricultural Council (KAC) and the Kentucky Association of Conservation Districts (KACD) are accepting applications for the Leopold Conservation Award program in Kentucky.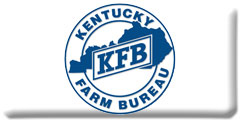 Later this spring, the KFB Education Foundation will award college scholarships ranging from $400 to $4,000 to 87 high school seniors pursuing a four-year degree.